Book tour karma? Clinton compares 'Russian meddling' to 9/11, falls & breaks toe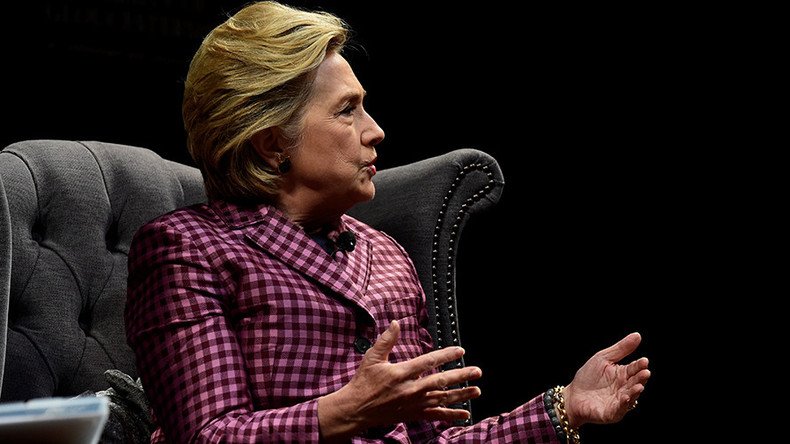 Former Democratic presidential nominee Hillary Clinton received backlash after comparing Russia's alleged meddling in the 2016 election to the 9/11 terrorist attacks. The next day, she broke her toe and missed several interviews, but did not blame Russia.
Speaking at the Southbank Centre's London Literature Festival Sunday night, Clinton likened Russia's alleged meddling in the 2016 presidential election to one of the worst tragedies in modern American history: the terrorist attacks on the World Trade Center, the Pentagon and Flight 93 in Pennsylvania on September 11, 2001.
"We've had really well-respected security, intelligence veterans saying this was a kind of 'cyber 9/11' in the sense it was a direct attack on American institutions," Clinton said. "That may sound dramatic, but we know that they probed and tried to intrude into election systems, not just the social media propaganda part of their campaign."
In 2003, Clinton described the attacks on September 11 as an "unspeakable tragedy" in her first memoir, Living History. She claimed that it changed her "as a Senator, a New Yorker and an American."
"The lost lives. The human grief. The smoldering crater. The twisted metal. The shattered survivors. The victims' families," she recounted at the time.
However, Clinton later used the tragedy as a political defense mechanism. During a Democratic presidential primary debate in November 2015, Senator Bernie Sanders (I-Vermont) rhetorically asked why Wall Street bankers donated millions of dollars to her campaign, concluding that they must have expected something in return.
In response, Clinton said that she had a good relationship with Wall Street bankers, because she helped rebuild the city after the attacks.
"I represented New York on 9/11 when we were attacked," Clinton said. "I did spend a whole lot of time and effort helping them rebuild. That was good for New York. It was good for the economy and it was a way to rebuke the terrorists who had attacked our country."
Clinton's comments were quickly criticized on social media, where Facebook users angrily condemned her comparison.
During Sunday's interview, Clinton said that Russia spread false news stories about her in order to "create more divisions within our country."
"You've got Trump and his campaign chanting 'lock her up.' You've got stolen emails being weaponized, raising terrible doubts about me. A lot of people just didn't vote, a lot of people stayed at home, a lot of people were suppressed," Clinton said. "There's just too much that went on that created doubts in people."
Clinton said that if she had been elected, she would have called for an independent commission "to get to the bottom of it," adding that Russian interference is "an ongoing threat."
Clinton also warned that Russian President Vladimir Putin has had a "strategic goal" to destabilize Western democracies.
"This is much more about his view of his role in reasserting Russia as a major player and destabilizing Western democracies, which are his primary competition," Clinton said. "And I think we have been somewhat asleep at the switch."
The former secretary of state also said that Russia also attempted to hack European elections, but that the attacks were thwarted, because the coverage of US election put them "on notice."
"If there's any silver lining out of my election, Europeans were really put on notice," Clinton said. "And a lot of what the Russians were doing and planning to do, didn't have the same effect."
Last week, Clinton gave a similar speech at Stanford, where she warned the West about "a new kind of Cold War," and advised the US to treat cyberattacks as an act of war.
"I believe that it is time for the United States to declare a new doctrine, stating that a cyberattack on our vital infrastructure will be treated as an act of war," Clinton said, according to Stanford Politics.
On Monday, Clinton showed up to an interview on the BBC's 'The Graham Norton Show', wearing a surgical boot and claiming that she had broken a toe walking down some stairs. This, despite her spokesman initially tweeting that she had simply twisted her ankle.
HRC on The Graham Norton Show, joking about how she caught her heel on some steps & twisted her ankle earlier today. Back to the book tour! pic.twitter.com/Fk30HLjNat

— Nick Merrill (@NickMerrill) October 16, 2017
Clinton apologized for missing two scheduled interviews on ITV's 'This Morning' and 'Woman's Hour' on Radio 4, explaining that she had been "running down the stairs in heels with a cup of coffee in hand," when her heel caught and she fell backward.
"I've received excellent care from your excellent health service," Clinton said, according to the Daily Mail.
Jane Garvey, host on 'Woman's Hour' today, later tweeted that Clinton had broken a metatarsal bone, which is not a toe, but part of the foot.
During the campaign, President Donald Trump repeatedly raised concerns about Clinton's health, particularly after she fell ill with pneumonia in September. His campaign released an attack ad that said Clinton didn't have the "fortitude, strength or stamina to lead in our world."
You can share this story on social media: