'Cold creepiness' – Assange on Clinton after she calls WikiLeaks 'Russian intelligence subsidiary'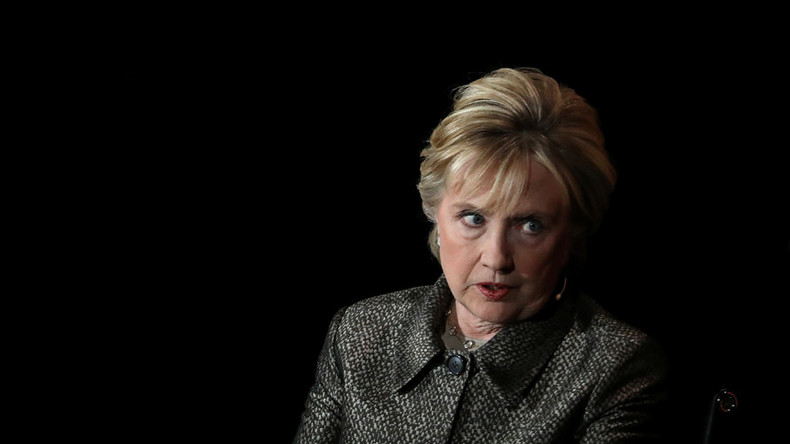 WikiLeaks founder Julian Assange has accused Hillary Clinton of "constant lying," after the former US presidential candidate told Australia's ABC TV that his organization was just a "subsidiary of Russian intelligence."
There is "something wrong with Hillary Clinton," Assange tweeted.
"It is not just her constant lying," he wrote on Monday. "It is not just that she throws off menacing glares and seethes thwarted entitlement.
"Something much darker rides along with it. A cold creepiness rarely seen."
WikiLeaks has a pristine record for accuracy. HRC is not a credible person. The primary cause of her downfall was her own Machiavellian scheme to elevate Mr. Trump ("Pied Piper").Our last Russian expose was three weeks ago. https://t.co/MGa1z99vVUhttps://t.co/He4vgLIKBW

— Julian Assange 🔹 (@JulianAssange) 15 октября 2017 г.
Hillary Clinton claimed in an interview with the ABC's Four Corners program that Assange colluded with the Russian government in the lead-up to the 2016 US presidential election.
"Assange has become a kind of nihilistic opportunist who does the bidding of a dictator," she said.
"WikiLeaks is unfortunately now practically a fully owned subsidiary of Russian intelligence."
Clinton claimed that in a bid to disrupt the election and derail her presidential campaign, Assange teamed up with none other than Russian President Vladimir Putin.
"I think that their intention, coming from the very top with Putin, was to hurt me and to help [then-presidential hopeful Donald] Trump," she said.
"Our intelligence community and other observers of Russia and Putin have said he held a grudge against me because as secretary of state, I stood up against some of his actions, his authoritarianism," Clinton said.
"If he's such a martyr of free speech, why doesn't WikiLeaks ever publish anything coming out of Russia? You don't see damaging, negative information coming out about the Kremlin on WikiLeaks," she added.
Assange tweeted in response that WikiLeaks' "last Russian exposé" actually came out just three weeks ago, and that his organization has a "pristine record for accuracy."
Clinton alleged that the actions of WikiLeaks and Russia played a major role in her losing the race.
"There was a concerted operation between WikiLeaks and Russia and most likely people in the United States to… weaponize that information, to make up stories, outlandish, often terrible stories that had no basis in fact… which were used to denigrate me, my campaign, people who supported me, and to help Trump."
READ MORE: Clinton camp calls WikiLeaks 'Russian propaganda arm' after damaging emails leak
According to Clinton, WikiLeaks was driven by Assange's personal dislike of her.
"I had a lot of history with him because I was secretary of state when WikiLeaks published a lot of very sensitive information from our State Department and our Defense Department," she said.
The US government has accused Moscow of interfering in the 2016 US election by hacking and leaking emails of Democratic Party operatives, as well as correspondences of Hillary Clinton's campaign chairman John Podesta. Moscow has repeatedly denied meddling in the election, noting that no evidence has been provided to support the accusations.
You can share this story on social media: