Earthquake rocks N. California, as burning wildfires kill at least 34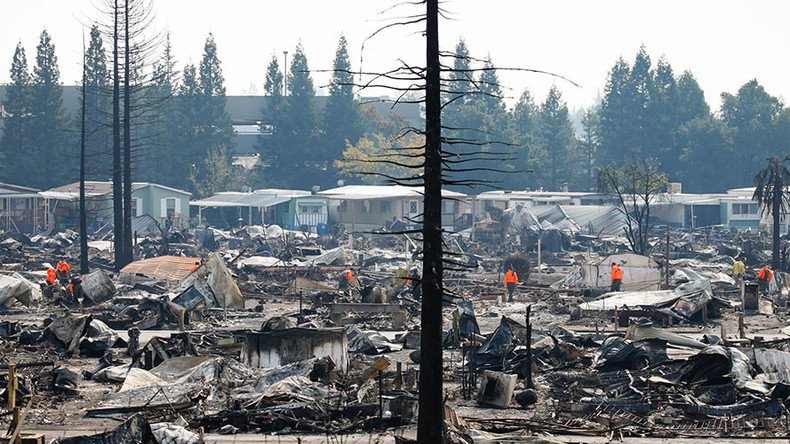 An earthquake has hit Northern California, where wildfires continue to affect the region, bringing the death toll to at least 34. An estimated 5,700 structures have also succumbed to the fast-moving flames.
On Friday afternoon, a 4.0 magnitude earthquake struck California's Mendocino County, north of Napa County, according to the US Geological Survey.
The quake occurred near Mendocino County's Redwood Valley, an area in the northwest section of the state, where 34,000 acres have burned up since Sunday, due to the 17 wildfires in the region.
The earthquake was shallow, and was recorded as reaching less than a third of a mile, leading to a reduced impact. The tremor was likely felt from Fort Bragg on the coast of the state, to the Central Valley and down to Cloverdale in Sonoma County, the USGS reported.
The Redwood Valley fire is 10 percent contained as of Friday. This fire alone has killed nine people, and, along with the 25,000-acre Sulphur fire in Lake County, it has led to the evacuation of a total of 8,000 people, according to the California Department of Forestry and Fire Protection (CalFire).
"Steep inaccessible terrain coupled with critical fuel moistures, and northwest winds will provide challenges for crews working on the fire," an incident report on the Mendocino County fires released by CalFire read.
Sonoma County Sheriff Robert Giordano announced at a press conference on Friday that 19 deaths have been recorded in the county due to the wildfires in the North Bay, according to KTVU.
A total of 1,485 missing persons have been reported, with 1,250 of them being located safe, leaving 235 outstanding cases. Officials in the area are still working through issues related to communications, as they try to resolve these figures.
Giordano also added that Alexander Valley in Sonoma County is under mandatory evacuation. He said the Pacific Gas and Electric Company is in the process of restoring power, while AT&T is getting the phone service back into operation.
READ MORE: Devastation of California's raging wildfires laid bare in drone footage (PHOTOS, VIDEOS)
The fast-spreading flames in northern California started on Sunday night, and the devastation soon began to be felt all throughout the region due to a number of factors.
"These are all fires that were in areas that are populated, and 95 percent of the fires in our state are started by people," Ken Pimlott, director of the California Department of Forestry and Fire Protection said on Tuesday, WGNO reported. Pimlott downplayed chances that lightning could have caused the wildfires.
High winds, the start of fires at night, heavy vegetation that dried out after a hot summer and dry conditions, have been cited as reasons contributing to the widespread fires, WPLG reported.
You can share this story on social media: