'Hell to pay': Puerto Rico Governor to investigate delays in water, food deliveries
Published time: 9 Oct, 2017 16:18
Edited time: 16 Apr, 2018 11:42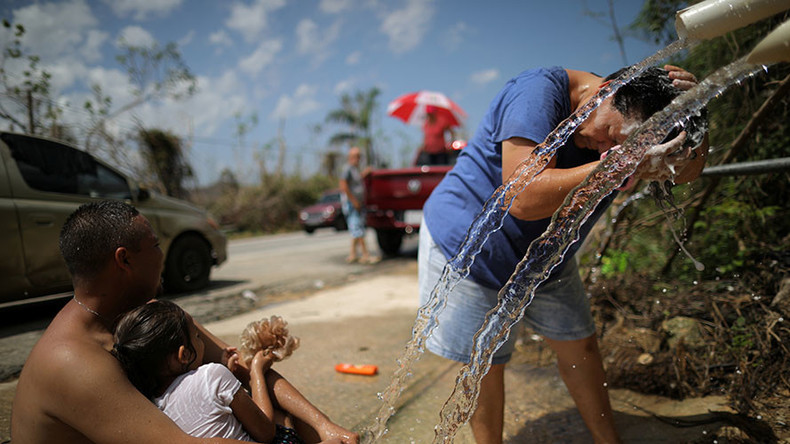 Governor Ricardo Rossello of Puerto Rico has ordered an investigation over water and food distribution on the hurricane-battered island after complaints that the supplies were not reaching the people in some areas.
"If there is a place, a locality that is not delivering food to the people of Puerto Rico that need it, there's going to be some hell to pay," Rossello said on Monday, according to Reuters.
Rossello said the government was trying to identify problems in the distribution pipeline, looking to ensure that local leaders deliver resources to people as soon as they arrive in the municipality.
"I think that there are places where water is being withheld and food is being withheld," Rossello said. "We need to showcase it, we need to push it forward to the people."
It has been three weeks since Hurricane Maria made landfall on the island, lashing it with 150 mph (241 kmph) winds and rain for more than 30 hours. The Category 4 storm wiped out the island's power grid, crippled communications systems and flooded roads. It created shortages of food, water and other supplies for Puerto Rico's 3.4 million residents. Latest reports have put the death toll at 36.
Water supply has been restored to roughly 60 percent of the island but some areas in the north remain at only 20 percent. About 88 percent of the island is still without power, the Puerto Rico Energy Authority reported on Saturday.
According to the Federal Communications Commission, 82 percent of cell phone sites in Puerto Rico and 58 percent in the US Virgin Islands remain out of service due to the hurricane.
President Donald Trump visited the island on October 3, following criticism that his administration was not doing enough and that help was provided faster to cities on the mainland following hurricanes Irma and Maria.
On the eve of his visit only 5.4 percent of people had seen their power restored, according the Department of Energy.
During his tour to Puerto Rico, Trump was also criticized for comparing the death toll from the infamous 2005 Hurricane Katrina to the much lower number of casualties in Puerto Rico.
The White House has asked Congress for $29 billion in hurricane relief for Puerto Rico, Texas and Florida. The four hurricanes that have struck the continental US and its Caribbean territories so far this year have "strained" the resources of the Federal Emergency Management Agency.
"Nearly 85 percent of my entire agency is deployed right now," FEMA Administrator Brock Long told ABC's This Week. The agency is "still working massive issues" from hurricanes Harvey and Irma in Texas and Florida, aiding Puerto Rico and the Virgin Islands with damage from Maria.
While FEMA was reported to be running out of operating funds, Long said, Congress stepped up and added another $6.7 billion to the disaster relief fund on October 1.
Meanwhile, Hurricane Nate made landfall as a Category 1 storm on Saturday, causing flooding in the Florida Panhandle and portions of Alabama and Georgia. The storm has since weakened substantially and was downgraded to a tropical depression.