Trump tosses paper towels into crowd of Puerto Rico hurricane survivors (VIDEO)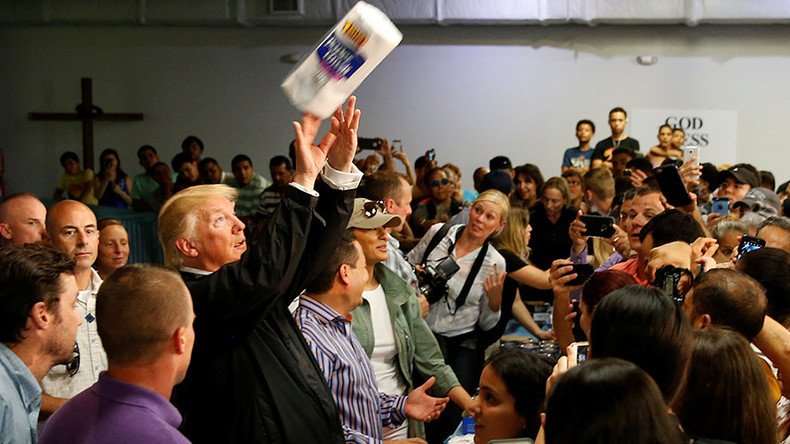 The US President has been caught on video while throwing packs of paper towels into a crowd of people in Puerto Rico, devastated by hurricane Maria.
Donald Trump visited locals in the neighborhood of Gauynabo on Tuesday in hurricane-ravaged Puerto Rico. Standing before Puerto Rico residents at a church, the President distributed food to them – and then started hurling bundles of paper towels into the crowd.
Many took to social media to voice their criticism of Trump's conduct.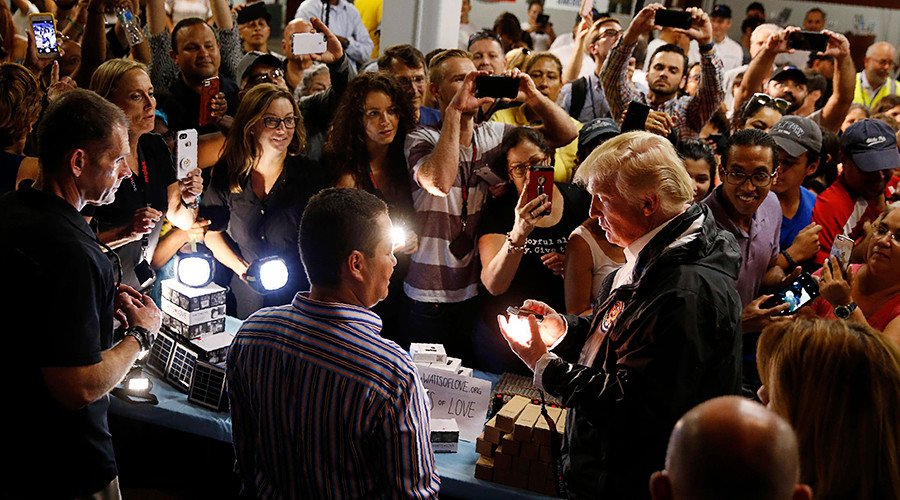 Stupid Trump! They are people do not treat them as animals! Throwing food to people.... shame shame

— Fernando Heredia (@polloh54) October 3, 2017
Trump also handed out flashlights to the crowd.
"Flashlights, you don't need them anymore. You don't need them," he said.
On the eve of President Trump's visit, only 5.4 percent of customers on the crisis-affected island had seen their power restored, Reuters cited the US Energy Department as saying on Monday.
Trump flies to Puerto Rico, finds the golf course is closed & tosses new rolls of paper towels & flashlights at his fans - then leaves.

— Steve Dick (@SWDick) October 4, 2017
Trump presiding w/ tinned chicken, a flashlight experiment, paper towel 3-pointer, a beatific, suspenseful toss (Reuters/Ernst & AP/Vucci) pic.twitter.com/mteW3xNHzm

— Alan Yuhas (@AlanYuhas) October 3, 2017
Trump throwing paper towels and cans of chicken to the crowd in Puerto Rico like they were dogs waiting for a treat.. Just saw it.Hardball.

— Sher' Wilson (@cherokeesher2) October 3, 2017
During his tour to Puerto Rico, Trump also sparked criticism for his comments comparing the death toll from the infamous 2005 Hurricane Katrina to that of Puerto Rico, which has recently suffered two devastating hurricanes.
You can share this story on social media: