'Get used to the alt-right': Richard Spencer at white nationalist rally in Charlottesville (VIDEOS)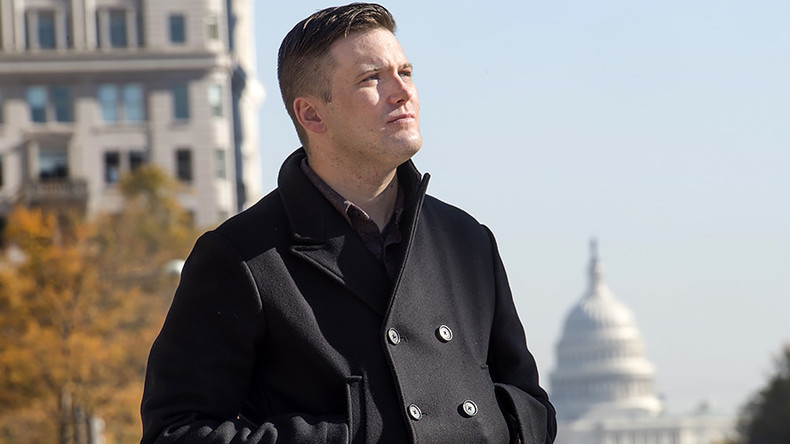 A group of torch-wielding white nationalists led by Richard Spencer returned to Charlottesville, Virginia for a rally, less than two months after white supremacist James Fields killed counter-protester Heather Heyer after a similar event.
READ MORE: Charlottesville mayor says car-ramming incident 'terrorist attack with car used as weapon'
Spencer and his ilk gathered at the statue of Confederate General Robert E. Lee in Emancipation Park for a short rally Saturday night which, according to police, lasted no more than 10 minutes.
The decision by the Charlottesville City Council in April to remove the statue sparked a series of tense protests and counter-protests.
"Richard Spencer and what was estimated to be 40 to 50 other individuals held a tiki-torch lit rally in Emancipation park that lasted five to 10 minutes." Charlottesville police said in a statement, WVIR reports.
"Spencer and his group then left the park, boarded a tour bus at another location and left the City of Charlottesville."
Spencer, who takes credit for coining the term 'alt-right,' posted a live video of the small gathering on Periscope, showing the group making their way to Emancipation Park. After lining up in a row, the group, largely dressed in the white supremacist uniform of white shirts and chinos, started shouting, "You will not replace us!"
READ MORE: 'Alt-right' creator Richard Spencer planning university tour in wake of Charlottesville
Spencer then took the loudspeaker to speak about how Charlottesville was symbolic of the suppression of "the history of our people, of white people."
"We care about our heritage, we care about who we are, not just as Virginians, not just as Southerners, but as white people," he said. "White people in this country, and white people around the world. We care about who we are and we will take a stand."
"So, you're going to have to get used to it," Spencer shouted. "You're going to have to get used to the alt-right, you're going to have to get used to white identity, you're going to have to get used to un-cucked young men who are willing to stand for our future, so get used to it. There's going to be a lot more crying… sorry about that."
"We're going to come back again and again and again."
The group then began singing 'I wish I was in Dixie,' a Confederate anthem which originated in blackface minstrel shows.
"We are here to represent White America's interests," another member of the group said. "The left-wing establishment is built around anti-white policies and anti-white rhetoric."
White nationalists now chanting - "We will be back". About 3 dozen supporters in Emancipation Park. Plenty of police on standby in park. pic.twitter.com/LuJEsAgxQy

— Matt Talhelm (@MattTalhelm) October 7, 2017
"The right wing establishment refuses to stick up for their own people, their own voters," he continued. "They refuse to understand that white Americans are their base, and they disavow anyone who speaks in favor of white Americans and their interests."
Police followed the white nationalist tour bus as it left Charlottesville.
"Our department is conferring with city leadership and the Commonwealth Attorney's office to determine what legal action may be taken in response to this event." police said.
READ MORE: Berkeley 'Free Speech Week' cancelled, Yiannopoulos to hold rally anyway
Charlottesville Mayor Mike Singer condemned the rally, writing, "Another despicable visit by neo-Nazi cowards. You're not welcome here! Go home! Meantime we're looking at all our legal options. Stay tuned."
Another despicable visit by neo-Nazi cowards. You're not welcome here! Go home! Meantime we're looking at all our legal options. Stay tuned.

— Mike Signer (@MikeSigner) October 8, 2017
A leader of the so-called 'Alt-right', white nationalist Richard Spencer, frequently appears at rallies and his presence tends to trigger protests or skirmishes.
For instance, during his speech at Alabama's Auburn University in April, he was greeted with protests and arrests. The school first attempted to stop Spencer speaking, citing safety concerns, by a court decision secured the event due to First Amendment protections.
In May, Spencer led a march with over 100 protesters wielding blazing torches at Robert E. Lee Park in Charlottesville to protest the removal of a statue in tribute to the Confederate general. The event triggered a hundreds-strong counter-protest the day after.
Meanwhile, some people rushed to Twitter to decry Saturday's march. Some pointed out that the US administration had failed to decry the right-wing event, but condemns the kneeling of black athletes during the national anthem instead.
Mike Pence is pitching a stagy fit AGAIN about @49ers kneeling, but has no comment on Nazis marching in Charlottesville AGAIN.

— Charles Johnson (@Green_Footballs) October 8, 2017
Las Vegas mournsPuerto Rico without powerNazis back in CharlottesvilleTrump/Pence STILL found it appropriate to plan divisive NFL stunt.

— Adam Best (@adamcbest) October 8, 2017
White supremacists marched again in Charlottesville YESTERDAY. Yet this @POTUS and @VP are upset at black athletes demanding racial justice.

— Jamil Smith (@JamilSmith) October 8, 2017