'Alt-right' creator Richard Spencer planning university tour in wake of Charlottesville
Published time: 14 Aug, 2017 21:11
Edited time: 15 Aug, 2017 08:15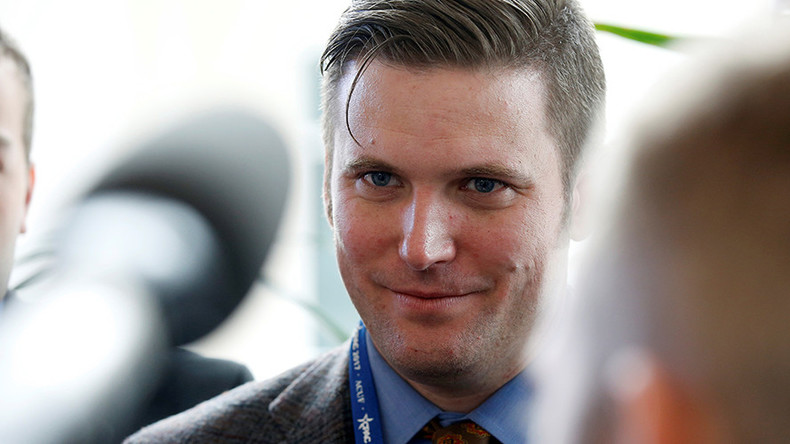 Alt-right frontman Richard Spencer appears to be cashing in on the recent violence in Charlottesville by embarking on a university tour.
Spencer is due to talk at a "White Lives Matter Rally" hosted by Preston Wiginton at Texas A&M University on September 11.
The rally hopes to protest "the liberal agenda of White Guilt and white genocide that is taught at most all universities in America," WFMY reports. A press release entitled "Today Charlottesville, Tomorrow Texas A&M," announced the event.
Spencer was set to appear at the 'Unite the Right' protest in Charlottesville that ended in one person being killed after a car rammed into a crowd of counter-protesters.
A "BTHO [Beat the Hell Outta] Hate" counter-protest has also been arranged to "demonstrate that members of the Aggie community do not support hateful bigotry."
"White supremacists keep coming to our campus thinking we're going to support them," organizer Adam Key told the Texas Tribune. "Just like the last time they showed up, we want to demonstrate as clearly as we can that their ideas are not welcome here."
Spencer spoke at the university in December. His talk was interrupted by shouting and pushing and met with protests outside.
The University of Florida has also announced Spencer may be speaking at the college on September 12, President Kent Fuchs wrote in a letter.
"UF administration, staff and campus police are developing a security plan for the potential event and are working with colleagues across the country who have had similar events on their campus." Fuchs said.
A counter protest, named"No Nazis at UF - Protest Richard Spencer" has 1,700 planning to attend.
SPENCER
Spencer credits himself with coining the term "alt-right," which the media have come to use as a catch-all phrase to include white nationalists, white supremacists, racists and Nazis.
Spencer, whose family own Louisiana cotton farms worth millions, heads the National Policy Institute, a think tank "dedicated to the heritage, identity, and future of people of European descent in the United States, and around the world."
Spencer gained notoriety after he was filmed celebrating Trump's election by crying "Hail Trump! Hail our people! Hail victory!" which was met with cheers and Nazi salutes at the National Policy Institute conference in Washington, DC.
"What I would ultimately want is this ideal of a safe space effectively for Europeans," Spencer told NPR. "This is a big empire that would accept all Europeans. It would be a place for Germans. It would be a place for Slavs. It would be a place for Celts. It would be a place for white Americans and so on."
On immigration, both legal and illegal, Spencer believes Trump should "preference people who are going to fit in, who are more like us. That is European immigration."
Spencer spoke at Alabama's Auburn University in April, and was greeted with protests and arrests. The school first attempted to stop Spencer speaking, citing safety concerns. A federal judge ruled Spencer's talk should go ahead due to First Amendment protections.
"Auburn University has faced attempts by uninvited, unaffiliated, off-campus groups and individuals to provoke conflict," the college wrote in a letter. "We will not allow the efforts of individuals or groups to undermine Auburn's core values of inclusion and diversity."
FREE SPEECH
Despite Spencer and his followers' dream of an America filled with only white-skinned Europeans, the First Amendment of the US Constitution protects his right to free speech.
The American Civil Liberties Union has argued for the right of racists to speak freely, since refusing to defend one group over another would establish a legal precedent of denying First Amendment protections.