Charlottesville mayor says car-ramming incident 'terrorist attack with car used as weapon'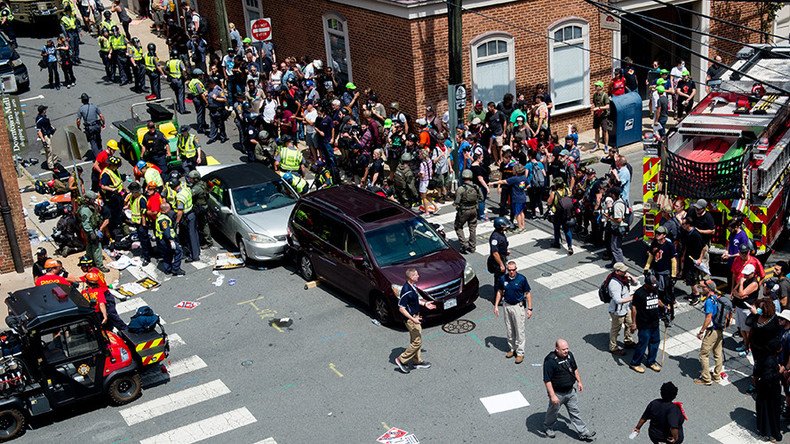 Both the mayor of Charlottesville, Mike Signer, and President Donald Trump's national security adviser, Gen. H.R. McMaster, have labeled the car attack at a Virginia rally on Saturday an act of terrorism. Police have not made any statements about the motive of the driver yet.
The incident occurred at a white supremacists' rally in Charlottesville, Virginia, when a car rammed into a crowd, killing one person and injuring over a dozen others.
Speaking with NBC's Meet the Press on Sunday morning, Signer said that the attack, in which a car plowed through a crowd of counter-protesters to the far-right rally, was "a clear terrorist attack with a car used as a weapon."
"Charlottesville is one of the great cities in the world," Signer told the program. "We made a decision about a year and half ago, at long last, to start telling deliberately the full story of race in our city and our past, to start telling the truth.
"And that put us on the map for a whole bunch of folks in this country who oppose everything about that. So what we saw this weekend was a deluge of outsiders trying to intimidate us away from that work."
Signer named the victim of the car crash as 32-year-old Heather Heyer.
READ MORE: 20yo Ohio man charged with murder after ramming car into Charlottesville protesters & killing woman
President Trump's national security adviser, H.R. McMaster, also appeared on the program and described the incident as a terrorist attack
"Anytime that you commit an attack against people to incite fear, it meets the definition of terrorism," McMaster said.
"What you see here is a criminal act against fellow Americans. A criminal act that may have been motivated — and we'll see what's turned up in this investigation — by this hatred and bigotry, which I mentioned we have to extinguish in our nation."
Charlottesville police have arrested one person in connection with the incident, 20-year-old James Alex Fields Jr. of Ohio, who has been charged with one count of second-degree murder, three counts of malicious wounding and one count of "hit and run attended failure to stop with injury."
The Virginia police have not yet officially confirmed a motive for the alleged attack, but a civil rights investigation has been opened by US attorneys and the FBI.
Reacting to the loss of life on Saturday, President Trump issued a statement on Twitter condemning the "egregious display of hatred, bigotry and violence on many sides," but did not explicitly mention the car crash nor the white supremacist nature of the rally. Other members of the Republican Party, however, starting with Senator Cory Gardner of Colorado, called the incident an instance of domestic terrorism.
"Mr. President - we must call evil by its name. These were white supremacists and this was domestic terrorism," Gardner wrote on Twitter. He was followed by Senator Marco Rubio of Florida, who called the incident "a terror attack by white supremacists," as well as Ted Cruz of Texas, who called for an immediate Department of Justice investigation into "this grotesque act of domestic terrorism."
Republican Senator Orrin Hatch, whose brother was killed in action during World War II, also sharply condemned the incident, tweeting: "We should call evil by its name. My brother didn't give his life fighting Hitler for Nazi ideas to go unchallenged here at home."
We should call evil by its name. My brother didn't give his life fighting Hitler for Nazi ideas to go unchallenged here at home. -OGH

— Senator Hatch Office (@senorrinhatch) August 12, 2017
The 'Unite the Right' rally turned violent on Saturday, as several far-right groups and their supporters, including the Ku Klux Klan, marched to protest against the removal of a Confederate monument in Charlottesville, Virginia. Fights broke out with counter-protesters, who included activists from the Black Lives Matter and antifa movements, and police have said at least 35 people were treated for injuries, which ranged from minor to life-threatening. In addition to Heather Heyer, who was killed in the vehicle-ramming incident, 19 others were injured in the car attack.
Two people, Lieutenant H. Jay Cullen and Trooper-Pilot Berke M.M. Bates, were also killed when a police helicopter monitoring the situation crashed. The police have confirmed there was no indication of foul play.
You can share this story on social media: