Moment of fatal car rampage at Charlottesville protest (EXTREMELY GRAPHIC VIDEO)
Extremely graphic footage shows the moment a car crashed into a crowd of protesters in Charlottesville, Virginia, killing a woman and injuring 19 other people. Charlottesville Mayor Mike Signer called the incident a "terrorist attack with a car used as a weapon."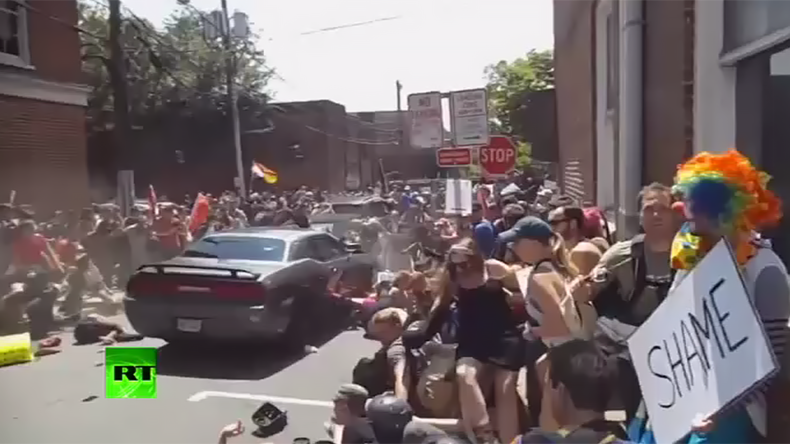 The incident occurred on Saturday afternoon, as anti-fascist protesters flocked to downtown Charlottesville to oppose a far-right rally.
READ MORE: 1 killed, more 'extremely' injured after car plows into protesters at Charlottesville rally (VIDEOS)
The disturbing footage shows people trying to escape as the gray Dodge Challenger approaches at high speed, but the narrow street ends up becoming a deadly trap. The vehicle plows through crowd, sending people flying into the air.
The car stops only after crashing into another vehicle, parked at a crossroad. After the impact, several protesters wielding bats attack the car, smashing windows and trying to prevent the driver from fleeing. The car, however, drives away at high speed in reverse.
The driver, identified as 20-year-old James Alex Fields from Ohio, was taken into custody by police and charged with second-degree murder for killing the woman identified as 32-year-old Heather Heyer.
Police have not released any information on the motives of the driver yet, but US attorneys and the FBI have opened a civil rights investigation, Reuters reports, citing the FBI field office. Depending on the outcome of the FBI investigation, Fields could face not only state but federal charges as well.
The incident was a "clear terrorist attack with a car used as a weapon," said the mayor of Charlottesville, Mike Signer. President Donald Trump's national security adviser, Gen. H.R. McMaster, expressed a similar attitude towards the incident.
"Certainly I think we can confidently call it a form of terrorism," McMaster told NBC. "What terrorism is, is the use of violence to incite terror and fear, and of course it was terrorism."
You can share this story on social media: