NRA, GOP & White House seeing eye-to-eye on 'bump stock' gun control regulation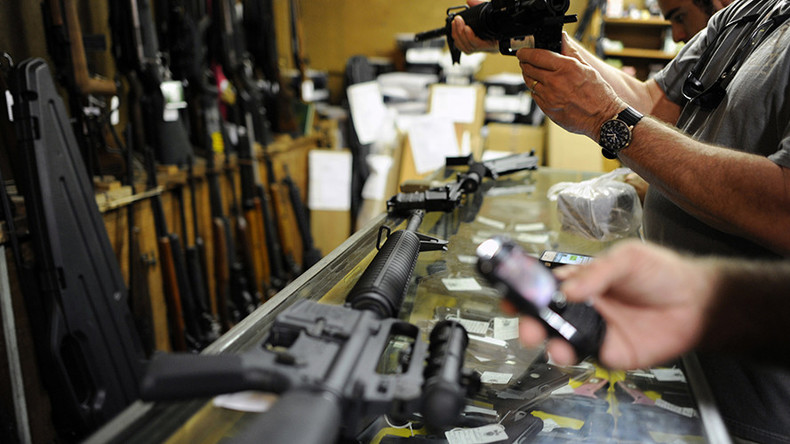 The National Rifle Association, along with the White House and some Republican lawmakers, are voicing support for taking action on "bump stocks." The devices enable semi-automatic rifles to mimic automatic weapons, allowing more rapid fire.
On Thursday, the NRA came out to the surprise of many and supported talks on regulating what are known as bump stocks. White House Press Secretary Sarah Huckabee Sanders also said on Thursday that the White House will take calls for regulation into account. Many in the Republican Party joined them and voiced their support to look into the legality of the devices.
The largest gun rights lobbying group in the country also supports an executive governmental review on the devices to determine if they comply with federal gun laws.
Law enforcement officials investigating the mass shooting carried out by Stephen Paddock in Las Vegas on Sunday night said that they found 12 bump stocks in his hotel room. Over the past few days, members of both the Republican and Democratic parties have voiced their approval to regulate or ban the devices.
Representative Carlos Curbelo (R-Florida) said Thursday he plans to introduce a piece of bipartisan legislation to ban the bump stocks. Curbelo hopes to file the bill in the next day or two, the Hill reported.
Speaker of the House Paul Ryan (R-Wisconsin) also came out in support of regulation for bump stocks on Thursday.
"Fully automatic weapons have been banned for a long time," Ryan said when asked by MSNBC about his stance on the devices. "Apparently, this allows you to take a semiautomatic and turn it into a fully automatic. So clearly that's something we need to look into."
Senator Ron Johnson (R-Wisconsin), the chairman of the Senate Homeland Security Committee, said Thursday that he would likely support some kind of action against bump stocks.
"Automatic weapons are illegal," Johnson told reporters on Wednesday, according to the Hill. "To me, that is part of that same type of process. So I have no problem banning those."
On Wednesday, Senator Dianne Feinstein (D-California), the top Democrat on the Senate Judiciary Committee, introduced legislation to ban the device. The bill has since garnered 26 Democratic co-sponsors. As of now, no Republicans have signed on to her bill.
READ MORE: Las Vegas gunman's girlfriend says she had no idea he was 'planning violence'
"The only reason to modify a gun like this is to kill as many people as possible in as short of a time as possible," Feinstein said, NBC News reported. She also stated that her daughter was planning to go to the Las Vegas concert on Sunday night, but decided not to.
According to police, Stephen Paddock orchestrated the deadliest massacre in modern American history on October 1, as he killed 58 people, and injured more than 500. Paddock fired his gun at thousands of concertgoers from his 32nd floor hotel room at the Mandalay Bay Hotel on the Las Vegas Strip.