Lollapalooza festival, airport among Las Vegas shooter's targets – media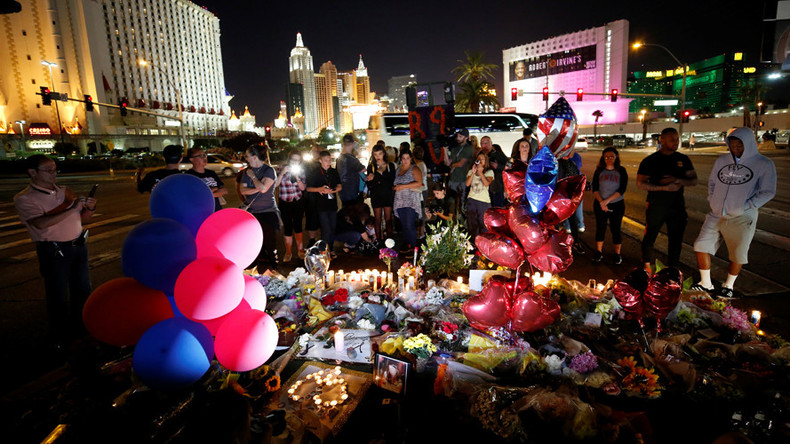 Las Vegas shooter Stephen Paddock is alleged to have booked two rooms at a Chicago hotel with a view of Lollapalooza in August, according to media citing police officials. He is also alleged to have researched music concerts playing at Boston's Fenway Park.
These new disclosures suggest Paddock might have been planning an attack months before the massacre in Las Vegas.
The rooms with a view of the Lollapalooza music festival were allegedly booked by Paddock at the Blackstone Hotel from August 1 to 6, across the street from the festival. Paddock never turned up, CBS reported.
The festival attracts over 300,000 people to the city.
The gunman is also alleged to have researched Boston's Fenway Park in the months before the massacre, according to senior law enforcement officials who spoke to NBC.
There is no evidence Paddock traveled to Boston but he did research on the city involving outdoor concerts scheduled for Fenway Park among them Lady Gaga, Billy Joel and New Kids on the Block, and hotel rooms overlooking those concerts. Most hotels in the area have an obstructed view of Fenway or no view at all.
The mass shooting on Sunday at the Route 91 Harvest country music festival lasted barely ten minutes according to police, but left 58 people dead and 489 others injured – revised figures due to confusion from hospitals on the night, which led to inflated numbers.
Police said the festival was not Paddock's only target. He is alleged to have attempted to detonate tanks of jet fuel close to the event, which were used by the Los Angeles International Airport, according to the Las Vegas Review Journal.
Paddock successfully managed to hit the tanks, but failed to penetrate them during the massacre on Sunday.
Clark County Sheriff Joe Lombardo gave the first detailed timeline of the massacre on Wednesday evening, saying the shooter fired hundreds of rounds for a full 10 minutes from his Las Vegas hotel room as music fans ran for their lives outside.
The first shots were reported at 10:05pm, with the first two Las Vegas police officers arriving on the 31st floor of the hotel, one floor below, by 10:12, he said.
The gunshots stopped at 10:15pm, two minutes before the initially responding officers made their way to Paddock's floor. There, they found a security officer who told them he had been shot and indicated Paddock's location. Police said Paddock fired 200 bullets in the direction of the security officer.
More officers arrived, some clearing rooms and looking for anyone who had been injured, and breached the door to Paddock's suite at 11:20pm, 65 minutes after the shooting stopped.
Officers found the suspect on the ground, Lombardo said on Wednesday evening. They then breached the door to the second room in the suite, but no one was there. Police announced the gunman down at 11:27pm.
Police also confirmed that Paddock had rented a room at the Ogden, a condo building, in September, overlooking the Life is Beautiful music festival in Las Vegas, which ran from September 22 to 24, but it is not known why. The rooms were not rented directly from the Ogden, but through an Airbnb account run by someone living there.
The Clark County sheriff said he believed Paddock had an exit plan, but it was so elaborate he would have had to be a "superhero" to pull it off alone.
"He had to have help at some point" said Lombardo.
He said he thought it was likely that Paddock had an accomplice, given the 23 rifles and piles of magazines in the room, the additional firearms in Paddock's home, and the electronic devices recovered from his Mesquite house.
Sheriff Lombardo said the shooter lived a "secret life" and "meticulously planned" the worst domestic attack in recent US history.
The sheriff mentioned a 10-year span of Paddock's life that police have struggled to grasp. Police know he was retired, a major gambler, and had real estate investments, but have not received information from an ex-wife and a brother.
Lombardo said Paddock's car had 50 pounds of explosives, and 1,600 rounds of ammo.
Investigators have focused on a weapon-buying binge Paddock went on one year before he carried out the massacre, and are wondering if he had some sort of mental breakdown at the time which may have driven him to start making plans for mass murder.
Several law enforcement sources told NBC that investigators are looking to speak to a woman who was seen with Paddock in his last days, when his girlfriend was out of the country. They do not know if she is connected to the attack, but want to speak with her to fill in their timelines of the lead-up to the attack.