Las Vegas gunman's girlfriend says she had no idea he was 'planning violence'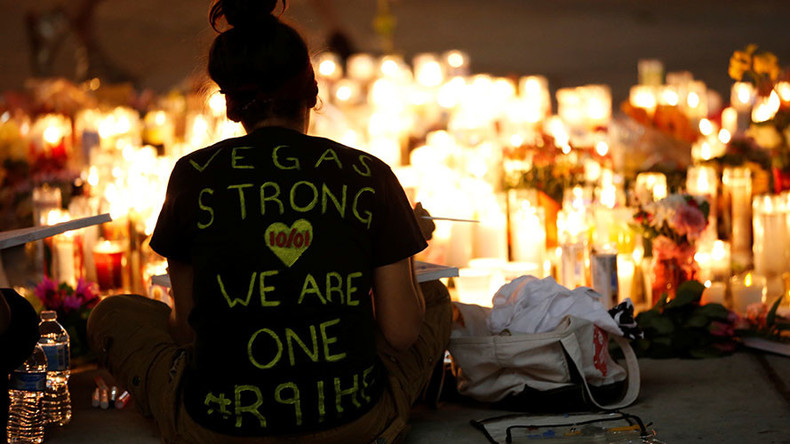 Marilou Danley, the girlfriend of Las Vegas gunman Stephen Paddock, was questioned by the FBI after returning to the US from the Philippines. She said through her lawyer that she had no idea that Paddock was going to wreak such carnage.
"He never said anything to me or took any action that I was aware of that I understood in any way to be a warning that something horrible like this was going to happen," Danley said in a written statement read by her lawyer, Matt Lombard, to reporters in Los Angeles.
"It never occurred to me in any way whatsoever that he was planning violence against anyone," Danley added.
Danley, 62, is regarded by investigators to be a "person of interest," but said she was completely unaware of the actions Paddock would take on Sunday night, when he killed 58 people and then himself at the scene of an open air music concert in Las Vegas, Reuters reported.
Lombard said he and his client were "fully cooperating" with the Federal Bureau of Investigation and the Las Vegas Police Department. Following Sunday's mass shooting committed by Paddock, over 500 people were left injured, among the 58 he killed.
In her statement, Danley said that Paddock had bought her a ticket to go to the Philippines, and wired her $100,000 to buy property in the country. She also said that the money transfer made her worry that it was his way of breaking up with her.
Danley, an Australian citizen, shared a condo with Paddock in a retirement community in Mesquite, Nevada, located northeast of Las Vegas. She left for the Philippines on September 15.
The ongoing investigation into the mass shooting brought new information, as authorities continue working on the case.
The number of injuries are at 489, 317 of those have been discharged from hospital. Deaths at 59, including the suspect.

— LVMPD (@LVMPD) October 5, 2017
Of the people injured in the attack, 317 out of 489 have been discharged from hospitals, Las Vegas Police said Wednesday.
Paddock meticulously planned the deadly event, and spent decades acquiring weapons, while he lived a secret double life, police also said Wednesday.
Paddock fired upon the concertgoers from his 32nd floor window at the Mandalay Bay hotel on the Las Vegas Strip. Some of the 500 injured during the attack were trampled as pandemonium set in following the shooting.
READ MORE: 2 guns found in Las Vegas shooter's hotel room shown in newly-released images (PHOTOS)
Before the authorities could get to Paddock's hotel room on Sunday night, he took his own life. Police found as many as 23 guns in the room alone.
Twelve of Paddock's rifles were said to be fitted with so-called 'bump stocks,' according to ATF officials. The bump stocks allow the weapons to be fired in a similar way to automatic weapons.