'Incredible character': Trump praises first responders during Las Vegas visit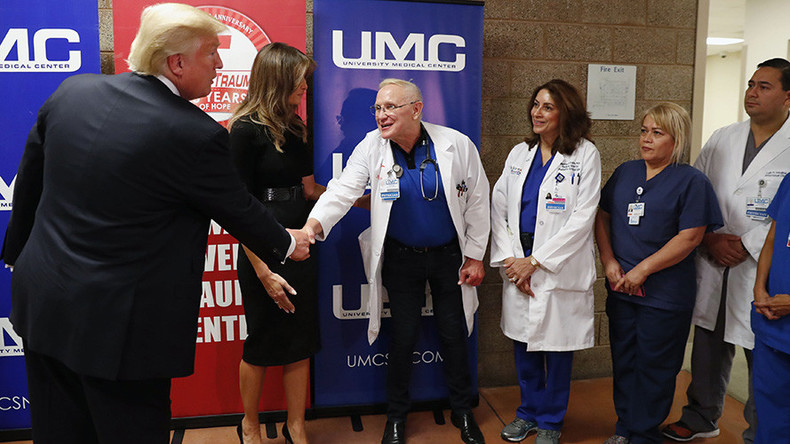 President Trump praised the professionalism of first responders, law enforcement, doctors and other medical staff during his visit in Las Vegas, just three days after a gunman opened fire on concertgoers, leaving 58 dead and over 500 injured.
"The people of Nevada, and the extraordinary city, have shown the world their incredible character, courage and resolve," Trump said in remarks at the Las Vegas Metropolitan Police Department on Wednesday.
"In the depths of horror, we will always find hope in the men and women who risk their lives for ours. The mass murder that took place on Sunday fills America's heart. America is truly a nation in mourning," the president said.
Nevada Governor Brian Sandoval (R) thanked the president and First Lady Melania Trump for visiting Las Vegas, and said: "We are hurt badly, but we are not broken."
Visiting separately with police officers and private citizens who handled the aftermath of the shooting, Trump called them "a real inspiration."
"If you didn't get up there so quickly it could be a lot worse, and we just want to thank you," he said.
Earlier in the day, Trump visited patients and medical staff at the University Medical Center, which received 100 of the injured after Sunday's massacre.
"What I saw today is just an incredible tribute to professionalism and what they have done is incredible. You never want to see it again," Trump remarked. "The patients, the bravery. Some were very badly wounded. They were badly wounded because they didn't want to leave. They wanted to help others because they saw people going down."
Trump said that the hospital was full the night the massacre happened, but that staff found room for all the people who came in.
"We are with you 100 percent. I invited a lot of them over to the White House. I will be there for them," Trump said.
When reporters asked about whether the country had a gun violence problem, Trump said: "We are not going to talk about that today."
Asked about the shooter's motive, Trump said, "I can tell you it is a very sick man, a demented person. You will know soon if we find something. We are looking very hard."
Local, state and federal authorities are still investigating what motivated Stephen Paddock, 64, to open fire from the 32nd floor of the Mandalay Bay hotel late Sunday. Paddock's gunfire killed 58 people and injured over 520 more, 45 of whom remain in critical condition, AP reported.