'People didn't know where to go': Witnesses describe confusion, lockdowns in Las Vegas mass shooting
Published time: 3 Oct, 2017 03:14
Edited time: 3 Oct, 2017 07:41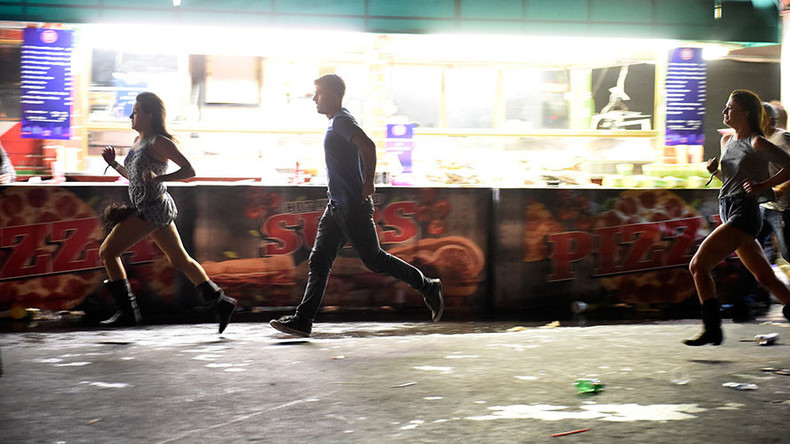 Panic-stricken people trying to escape the fenced-off festival grounds in Las Vegas as a hail of bullets rained down from an unknown direction, and hotels locking out frantic survivors out of safety concerns, were some of the scenes described by eyewitnesses to RT.
Abdi, an eyewitness to the massacre, told RT he might have cheated death when he abandoned his security position in front of the stage and went to chat with friends before the gunman opened fire at the area where he was.
"I walked away from my post which I'm glad that I did and where I was supposed to be standing was in front of the main stage where majority of the staff was happening," the young man working security at the event said.
It was not immediately clear to the people in the audience that an attack was under way. It was only half-way through the shooting that they realized they were in imminent danger Abdi said. He further noted that the first round of shots appeared to be synchronized with the song being performed on stage.
"When he [the performer] started singing, the gun started going off and as soon as he stopped the music cut out and the first round of gunshots cut out."
Only after a second round of gunshots rang out did revelers realize that what they had heard was gunshots, and not "the music messing up," he said. As soon as he understood this, he "dropped everything and just ran."
In a search of a safe space, he crammed along with several other fleeing concertgoers at someone's house as they were unsure of the shooter's position.
"There was a whole bunch of people already in there and they had all the lights turned off and they were telling everyone to be quiet, because he was still nearby and we didn't know if the shooter is around or not," he said. Abdi said he remained in the hideout for some 20 minutes before coming out.
What he saw in the streets was a grim picture of "ambulances, a lot of people carried by shoulders , a lot of people crying."
Abdi suggested that the perpetrator chose his target carefully to achieve maximum impact.
"The main stage where the main crowd was that was the place that was targeted and that was for sure the most populated and dense place at the festival."
Those who survived the slaughter have been deeply traumatized by the tragedy, he said.
"Everyone who was there at the festival is affected, that's for sure."
'Fleeing people stuck out in the street'
An eyewitness who was working at a hotel near the scene of shooting that unfolded at a Las Vegas music festival on Monday, told RT his heart was aching as he watched people desperately trying to flee the carnage while the hotel was placed on lockdown.
Brett Kenyon, who works as a waiter at the nearby Cosmopolitan Hotel, was serving customers at one of the tables when he got to know about the massacre unravelling at the site, minutes walk from the hotel.
As the news spread, confusion and panic ensued, with the management deciding to put the hotel on lockdown, effectively closing doors to everyone who rushed to the place for safety.
"There were people running up and down the strip. Because the hotel did go on lockdown, people were not able to go into the hotel, so if you were caught out in the street, you were basically stuck out there," Brett said.
"My heart was breaking for the people because they just did not know where to go, because the hotel's rules are that you are cannot allow people in or out for our safety."
He spoke of "tons of SWAT teams and police" flocking to the scene.
READ MORE: Who was Stephen Paddock? Las Vegas shooter 'not an avid gun guy'
Although none of Kenyon's relatives or friends were hurt in the attack, one of his friends was at the scene and was lucky to escape unharmed.
"My friend was in the VIP area above and he was able to take cover below and then they climbed the fence and then him and about other ten people pulled down the fence so they were able to run to the side," Kenyon said.
He is familiar with the venue and pointed out that it must have been very challenging for the large crowds of concert-goes that attended the Route 91 Harvest festival that Sunday night to flee the scene because of to the venue's layout.
"I was just at that exact venue last weekend for a music festival and I know that getting in and around of that area [is hard], there is really just one entrance, it is all gated," he said.
Kenyon is originally from the Sandy Hook area. He was at a funeral of one of the victims of the elementary school shooting on December 14, 2012 that claimed 28 lives, including 20 children, and argued that it's time for one of the most permissive gun laws in the US that are in place in Nevada to be reviewed.
"One of my friends who is pro-gun himself believes there should be stricter laws. You can go to gun shops here and buy guns without any ID. You can buy ammunition," he said. "It's just insane for me to think that we don't have no stricter laws," he added.
"The world is changing and we need to consider also changing these laws because how many more mass shootings do we need till we realize that these laws are outdated and we need to change something."
At least 59 people died and 527 others were injured in the deadliest mass shooting in recent US history. The shooter, identified as Stephen Paddock, went on a shooting spree from a booked room at the 32nd floor of the Mandalay Bay hotel. It is understood that the shooter killed himself thereafter.
The 64-year-old, a retiree with no criminal record, was found dead along with a handgun and 16 rifles, two of which were modified to be fully automatic, according to AP. Eighteen more firearms were later found at the shooter's house.
A state of emergency was declared in Clark County, Nevada, following the shooting.
Police have yet to determine a motive for the attack, while US security agencies denied the claim by Islamic State (IS, formerly ISIS,ISIL) that Paddock was a fresh convert to Islam and carried out the attack on their behalf.
Paddock's brother has described him as a peaceful man that moved to Las Vegas to spend more time on gambling. It has also emerged that the father of the shooter, Benjamin Hoskins Paddock, was a bank robber and once was on the FBI's 10 most wanted list after a prison break.