Who was Stephen Paddock? Las Vegas shooter 'not an avid gun guy'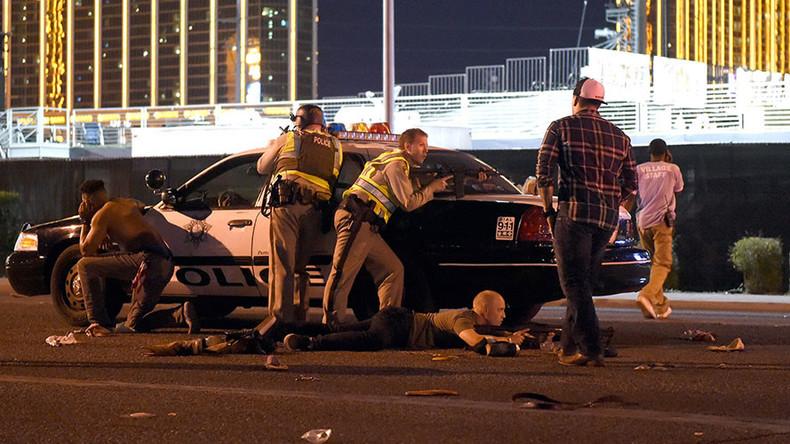 The man who killed 59 people and injured more than 500 others at a Las Vegas music festival did not have a criminal record, according to local authorities. He was "not an avid gun guy," his brother said, despite being found with at least 10 firearms.
At first glance, 64-year-old Stephen Paddock seemed ordinary – a retiree who enjoyed visiting Las Vegas to gamble and attend concerts. According to public records cited by The Washington Post, he also enjoyed hunting and was a licensed pilot who owned two planes.
First photo released of the Las Vegas shooter, 64-year-old Stephen Paddock; he was found dead in Mandalay Bay hotel room he fired shots from pic.twitter.com/hr6O5UApHf

— Good Morning America (@GMA) October 2, 2017
Not only did Paddock enjoy listening to concerts, but he specifically enjoyed country music and attending live music events at Las Vegas hotels – the exact scene where he would eventually open fire on 22,000 concert-goers.
Paddock worked various jobs, including as an auditor at a company that later became Lockheed Martin. He also reportedly made a small fortune from real estate investing and a business that he and his brother Eric sold off.
However, Paddock's main source of income was reportedly as a high-stakes gambler.
"It's like a job for him. It's a job where you make money," Eric Paddock said, adding that his brother could lose $1 million and still have enough to live on.
"He was at the hotel for four months one time. It was like a second home."
He added that Paddock was particular about what kind of gambling he did.
"It had to be the right machine with double points, and there has to be a contest going on. He won a car one time," he said, as quoted by the Washington Post.
According to his relatives, Paddock was worth more than $2 million. He traveled a lot and had millions of airline miles.
Since 2013, he had lived a quiet life in the small town of Mesquite, Nevada. He bought a three-bedroom home in a desert retirement community on the outskirts of town for $370,000 in 2015, according to public records.
"It's a nice, clean home and nothing out of the ordinary," Mesquite police department spokesman Quinn Averett told reporters, as quoted by Reuters. Some guns and ammunition were found inside – not necessarily a remarkable finding, in an area where gun ownership is high.
He had no criminal background, with Las Vegas Police confirming that he had no more than a routine traffic violation on his file.
His own family has expressed "horror" at what Paddock was capable of, killing 59 people and injuring at least 527 others as they listened to country music singer Jason Aldean at the Route 91 Harvest music festival on Sunday night.
"We are in complete shock, bewilderment, and horror. We have absolutely no idea how in the world Steve did this. Absolutely no concept," an unnamed relative told the Post. "There was nothing secret or strange about him."
The shooter's brother, Eric Paddock, expressed the same level of shock, telling CBS News that the gunman was "not an avid gun guy at all."
"The fact that he had those kinds of weapons is just – where the hell did he get automatic weapons?" he said.
He told CNN he was aware his brother had "a couple of handguns" which he kept in a safe, and "maybe one long rifle," but no machine guns or automatic weapons that he knew of.
"It's like an asteroid fell out of the sky," he said, describing his reaction to the shocking news.
"He was a wealthy guy and he liked to play video poker and he liked to go on cruises," he said, according to Reuters.
Paddock also described his brother as a peaceful man.
"He's never drawn his gun, it makes no sense."
He also said his brother moved back to the red desert hills of Nevada, in part, because gambling is legal in the state.
At least 10 guns, including some rifles, were found in the 32nd floor hotel room which Paddock had occupied since last Thursday. A deceased Paddock was also found at that time, after police officers and a SWAT team breached the room.
Authorities believe Paddock acted as a "lone wolf," and have failed to come up with a motive.
"We have no idea what his belief system was," Clark County Sheriff Joseph Lombardo said.
However, Islamic State (IS, formerly ISIS/ISIL) has claimed responsibility for the attack, alleging that Paddock had converted to Islam several months previously. No evidence was offered to substantiate the claim, and the FBI has since said there was no international terrorist connection, according to AP.
Paddock lived with a woman by the name of Marilou Danley, 62, who was initially sought by police for questioning. However, authorities have since said they do not believe she had any connection to the attack, CNN reported, noting that she was out of the country at the time of the incident.
You can share this story on social media: