'Act of pure evil': Trump on Las Vegas shooting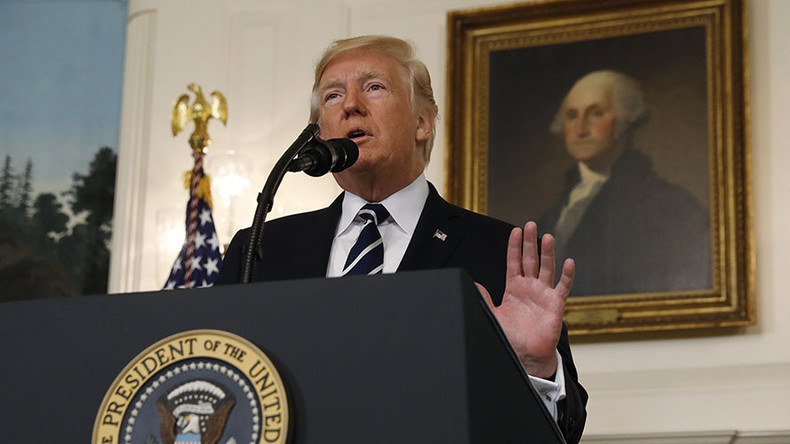 US President Donald Trump addressed the nation about the attack in Las Vegas, Nevada – the deadliest mass shooting in US history. Islamic State (IS, formerly ISIS) has claimed responsibility for the attack that left 59 killed and over 500 injured.
Calling the attack an "act of pure evil," Trump said he has ordered the US flag to be flown at half-staff to honor the fallen.
The president also said he will be visiting Las Vegas on Wednesday to meet with the survivors and families of the victims.
"Though we feel such great anger at the senseless murder of our fellow citizens, it is our love that defines us today and always will, forever," Trump said. "We pray for the entire nation to find unity and peace, and we pray for the day when evil is banished and the innocent are safe from hatred and fear."
READ MORE: Deadliest US shooting: 58 killed, over 500 injured at Las Vegas music fest
Witnesses to the shooting at the country music festival in Las Vegas described rapid gunfire that lasted around five minutes.
The shooter, who was identified as Stephen Paddock, 64, unleashed the hailstorm of bullets on the concertgoers from the 32nd floor of the nearby Mandalay Bay hotel, Las Vegas Metropolitan Police Sheriff Joseph Lombardo said. Over 50 people were killed and hundreds were wounded.
Inside Paddock's hotel room, police found a cache of weapons, including 10 rifles, according to Lombardo.
"We believe the individual killed himself prior to our entry," the sheriff said.
As of Monday afternoon, authorities believed that Paddock was the "sole aggressor."
There has been no indication of Paddock's connections with any international terrorist organizations so far, the FBI said on Monday afternoon.
Islamic State (IS also known as ISIS/ISIL) has claimed that the Las Vegas shooter acted on behalf of the terrorist group, but offered no evidence to back up the claim.
With the investigation into Paddock's motives ongoing, there were no early signs of any ties to radical Islamic groups or signs of radicalization, a US official told CBS News.
Everyone knows (even if won't admit it) that in the early stages of mass shooting, "no signs of terrorism" means: "shooter isn't Muslim." https://t.co/zFWDySMrET

— Glenn Greenwald (@ggreenwald) October 2, 2017
You can share this story on social media: