Deadliest US shooting: 58 killed, and 527 injured at Las Vegas music fest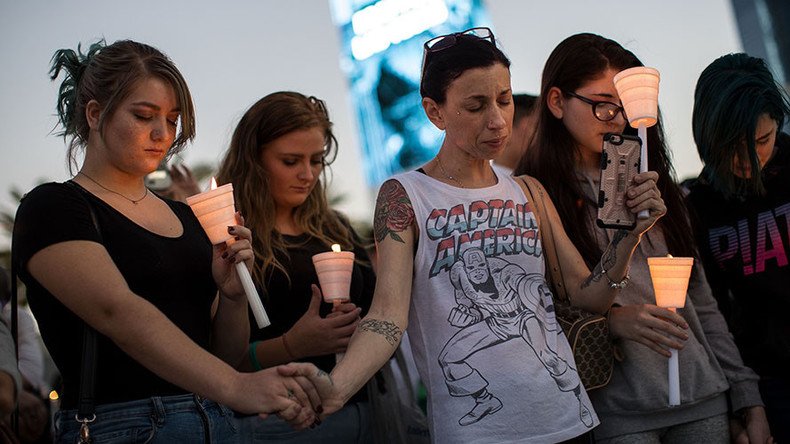 04 October 2017

14:43 GMT

Stephen Paddock had been prescribed anti-anxiety medication, the Las Vegas Review Journal has discovered.

The Las Vegas shooter had been prescribed 50 10-milligram tablets of diazepam (also known as Valium) in June, and instructed to take one pill per day.

This is the highest dose of the strong sedative that can be prescribed, and the drug is indicated for the management of anxiety disorders, and other medical conditions. Side effects include aggressive behavior and loss of impulse control.

14:15 GMT

The Las Vegas shooter Stephen Paddock often had Domino's pizza delivered to his Mesquite, Nevada home and always ordered the same thing - two medium mushroom pizzas with extra cheese.

"I looked up his last order, because I wanted to see who was the last person that actually saw him... and it happened to be me," Domino's Pizza employee Skylar Dexter told Ruptly.

"So I was a little freaked out, not sure exactly how to feel about it. I was looking kind of a crazy guy in the face. And I was just handing his pizza, taking his money. And he was capable of doing something that awful and I was looking into his face treating him like a normal person."

Paddock ordered pizza from Domino's 14 times in recent months, according to Reuters. He was a good tipper and paid in cash. Sometimes he would tell the delivery person he was trying to lose weight and the pizza was only for his companion.

14:02 GMT

The Las Vegas Metropolitan Police Department has released body camera footage from an officer who was at the mass shooting on Sunday.

Multiple shots can be heard as police try to locate the gunman and usher people away from the gunfire.

13:54 GMT

Authorities said the Las Vegas shooter had planned the murderous attack in great detail, not only stockpiling nearly two dozens guns in his hotel room but setting up cameras in the peephole and on a service cart outside his door, allegedly to watch for police coming for him.

"The fact that he had the type of weaponry and amount of weaponry in that room, it was pre-planned extensively," Clark County Sheriff Joe Lombardo told reporters. "I'm pretty sure he evaluated everything that he did and his actions, which is troublesome."

Paddock had been stockpiling guns since 1982, but bought 33 of them, mostly rifles, over the past year alone, right up to three days before the attack, a federal agent told CBS.

The shooter had rigged 12 semi-automatic rifles with devices that allowed the guns to fire like an automatic weapon, the agent added.

13:52 GMT

"It is a very sad thing. We are going to pay our respects, and to see the police who have done a fantastic job in a very short time," President Donald Trump told reporters before he and the First Lady departed for Las Vegas on Wednesday.

"We are learning a lot more. That will be announced at the appropriate time. It is is very sad, sad day for me personally," the president said.


Once in Las Vegas, Trump is due meet officials, first responders, and some of the 527 people injured in the attack. Of the injured, 45 remain in critical condition, according to AP.

04:00 GMT

Marilou Danley, the girlfriend of suspected Las Vegas shooter Stephen Paddock, is flying back to the US from the Philippines, Reuters reported, citing unnamed sources at Manila international airport.

Danley left Manila unescorted on Tuesday evening, but will be met by the FBI upon her arrival in the US. Danley had arrived in the Philippines' capital city of Manila in September.

"Her trip back to the US was coordinated with FBI authorities," an unnamed police official said.

He also stated that Danley is returning home to "clear her name" in relation to the Las Vegas shooting.

02:51 GMT

Police have recovered 47 firearms belonging to suspected Las Vegas shooter Stephen Paddock from three different locations, Jill Snyder, the special agent in charge at the ATF, said at a press conference on Tuesday night.

She said that dozens of rifles, shotguns and pistols had been recovered from Paddock's hotel room, his home in Mesquite, Nevada, and from another, undisclosed location.

02:47 GMT

A total of 12 bump stocks have been found so far in the investigation of suspected Las Vegas shooter Stephen Paddock, according to Jill Snyder, the special agent in charge at the ATF. The bump stocks allow certain guns to mimic automatic weapons, firing off hundreds of rounds a minute.

Two cameras were also confirmed to be set up in the hallway outside Paddock's room, while another one was installed in the hotel door peephole. The hallway cameras were installed so that Paddock could see approaching law enforcement and security personnel. The peephole camera was put there so Paddock could see down the hallway, Las Vegas Police Department Undersheriff Kevin McMahill said.

02:00 GMT

The photos of guns inside the hotel room of suspected Las Vegas shooter, Stephen Paddock, are legitimate, Las Vegas Police Department Undersheriff Kevin McMahill said at a press conference on Tuesday night.

McMahill also stated that an investigation has been opened by the department in relation to the leaking of the photos.

00:25 GMT

In the last three years, suspected shooter Stephen Paddock was reported to the authorities more than 200 times for suspicious activity, according to ABC News.

The majority of the reports were related to "currency transaction reports," while others centered around "suspicious activity." By law, casinos need to fill out "currency transaction reports," and notify the Treasury Department's Financial Crimes Enforcement Network when someone deposits or withdraws more than $10,000 in cash at one of their establishments.

Suspicious activity reports, on the other hand, are filed by banks when they detect a suspected or known violation of federal law, or a suspicious transaction.