Top Senate Democrat urges Trump to back independence for Kurds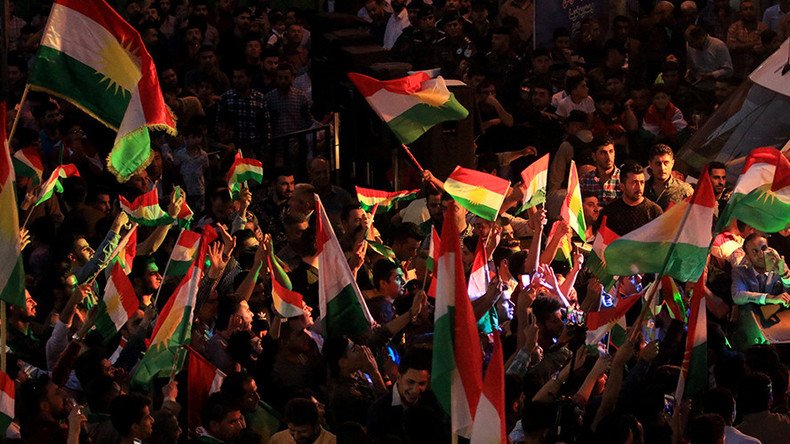 Senate Minority Leader Chuck Schumer (D-New York), has urged President Donald Trump and his administration to support an independent Kurdish state after an overwhelming majority of Iraqi Kurds voted for cutting ties with Baghdad in a referendum on Monday.
"The US should stand for self-determination for our strongest partners," Schumer said in a statement referring to Kurdish participation in the US-led campaign against Islamic State (IS, formerly ISIS/ISIL).
"The Kurds are one of the largest ethnic groups in the Middle East without a homeland and they have fought long and hard for one," the leader of the Senate Democrats pointed out.
"Despite this, the Kurds continue to get a raw deal and are told to wait for tomorrow, which is why it's past due that the world, led by the United States, immediately back a political process to address the aspirations of the Kurds," Schumer added.
READ MORE: Kurdish leader says 'yes' vote won independence referendum
According to Kurdish High Elections and Referendum Commission, over 92 percent of those who took part in the vote opted in favor of independence from Iraq. Local television reported that around 3.45 million ballots were cast.
The vote has been deemed illegal and "unconstitutional" by Baghdad, with Iraqi lawmakers asking the government to send troops into the Kurdish areas.
READ MORE: Iraqi parliament 'gives mandate' to PM Abadi to deploy troops in disputed oil region Kirkuk
Neighboring Turkey, Iran, and Syria are also opposed to the creation of an independent Kurdistan over concerns that it may spur separatist sentiment in their own Kurdish-populated areas. In the region, only Israel endorsed both the referendum and the establishment of a Kurdish state.
READ MORE: Russia says it supports united Iraq in wake of Kurdistan independence referendum
Russia for its part said it supports the Kurdish drive for independence but insists that Iraqi unity should be respected. A Kurdish national state is possible, Moscow says, but only through dialogue with Baghdad and not a unilateral declaration of independence.
Ankara spoke out against the Kurdish independence in Iraq, fearing that it might produce a domino effect leading to Kurdish-controlled autonomous areas (cantons) in northern Syria to declare independence as well.
The situation is complicated further as Turkish Kurds, led by the main rebel group, the Kurdistan Workers' Party (PKK) continue to demand separation from Turkey to create an independent Kurdistan.
Ankara has been fighting the Kurds in its southeastern provinces since 1978. As a precaution against a full-fledged declaration of independence by the Iraqi Kurds, Ankara even staged live drills along the border with Iraq on Tuesday, in a show of force.
Damascus also spoke out against the Iraqi Kurds' independence move, noting that situation with Kurds in Syria is a different matter. The Syrian government said that it is willing to negotiate with its Kurdish nationals on a possibility of autonomy within a unified state.
Syrian Kurds effectively control much of the territory along the border with Turkey, from the frontier with Iraq to the Euphrates River. Kurdish forces have been fighting bravely against Islamic State and other terrorist groups both in Iraq and Syria, and have served as a backbone of the US-backed coalition ground forces in their ongoing Inherent Resolve campaign, despite repeated objections by Ankara.
While the US has been relying on Kurds to do the fighting, Washington has called on Iraq to maintain its territorial integrity.
"We hope for a unified Iraq to annihilate ISIS [Islamic State], and certainly a unified Iraq to push back on Iran," White House spokeswoman Sarah Huckabee Sanders told reporters earlier this week.
You can share this story on social media: