Kurdish leader says 'yes' vote won independence referendum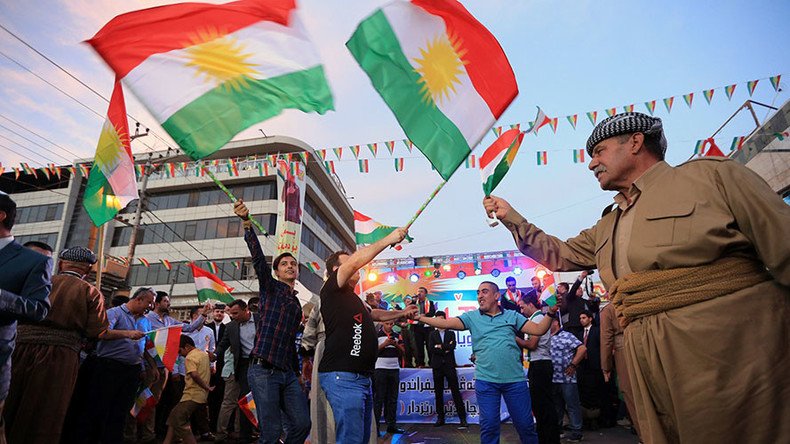 The "Yes" vote has won in Monday's controversial independence referendum in the Kurdistan region of northern Iraq, Masoud Barzani, President of the Kurdistan Regional Government said.
Around 3.45 million ballots were cast, with 91.83 percent of those who took part in the referendum opting in favor of independence, Tass reports, citing local TV.
READ MORE: Iraqi Kurds vote in controversial independence referendum
Barzani urged the central government in Iraq to engage "in serious dialogue" with the Kurdistan Regional Government (KRG) "instead of threatening" it with sanctions.
"We may face hardship but we will overcome," Barzani said in a televised address.
The KRG president also called on the international community to "respect the will of millions of people" who took part in the plebiscite.
Iraqi Prime Minister Haider al-Abadi has ruled out any independence talks with the Kurds.
"We are not ready to discuss or have a dialogue about the results of the referendum because it is unconstitutional," al-Abadi said in a televised speech TV Monday night.
Turkey, Iran, and Syria are also strong opponents of the secession of the Iraqi region due to concerns that it may ignite separatist sentiment in their own Kurdish areas.
Turkey's president, Recep Tayyip Erdogan, warned that Iraqi Kurds will "not be able to find food" if they keep pushing for independence.
"[They] will be left in the lurch when we start imposing our sanctions," Erdogan said. He warned that all military and economic sanctions were on the table.
You can share this story on social media: