Russia says it supports united Iraq in wake of Kurdistan independence referendum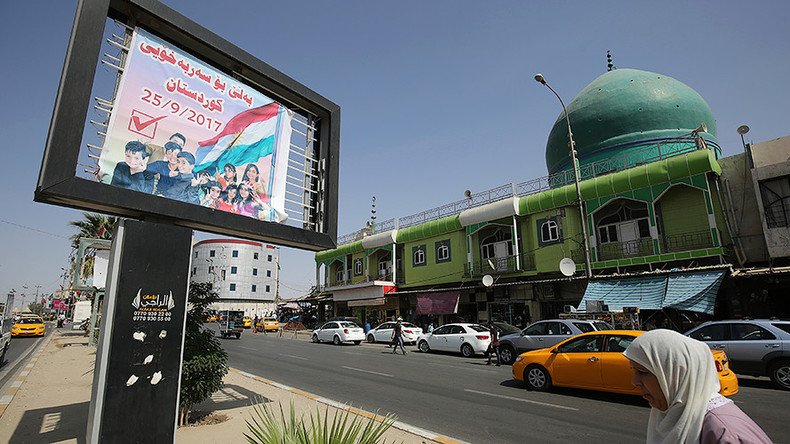 Moscow respects the desire of Kurds to have a national state, but believes the issue should be resolved through dialogue, not a unilateral declaration of independence, the Russian Foreign Ministry said after Iraqi Kurds voted for secession.
The ministry acknowledged that according to preliminary results of the poll, over 90 percent of Iraqi Kurds voted for independence on Monday. But it said the vote has the potential to further destabilize the already unstable region.
READ MORE: Kurdish leader says 'yes' vote won independence referendum
"The Russian party believes it to be of utmost importance to avoid anything that risk to further complicate and destabilize the Middle East, which is already overloaded by conflict situations," the ministry statement said.
Moscow says it continues to support the sovereignty and territorial integrity of Iraq and other Middle East nations, adding that the conflict over the status of Iraqi Kurdistan "can and should be resolved with constructive and respectful dialogue aimed at finding a mutual form of coexistence in a unified Iraqi state."
Earlier on Monday, Iraqi Kurdistan held a controversial referendum on whether the autonomous region should become independent. The poll was protested in Baghdad as well as in Turkey and Iran, countries that have significant Kurdish minorities living close to Iraqi Kurdistan. Turkey in particular has waged a decades-long war with guerrilla forces of the Kurdistan Workers' Party (PKK), which seeks to break away from Ankara.
As the vote was underway in Iraqi Kurdistan, Iraq and Turkey staged a massive joint military exercise in an apparent demonstration of force to the Kurds.
You can share this story on social media: