Turkish army at Iraqi border and ready to take 'necessary steps' - Erdogan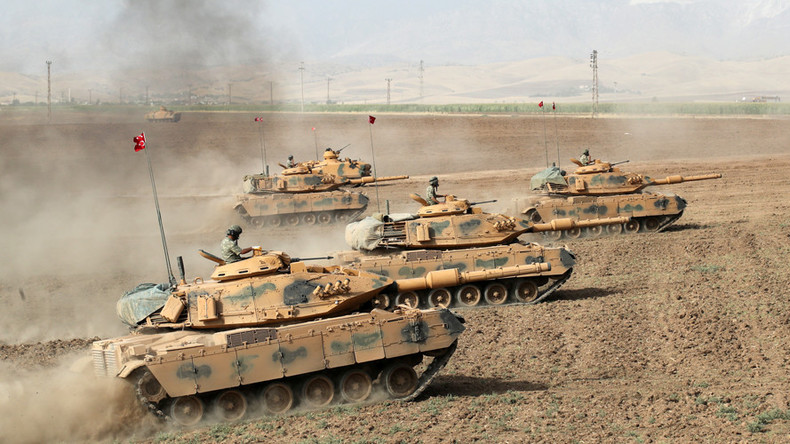 Turkish President Recep Tayyip Erdogan has warned that the Kurdish Regional Government's independence referendum could spell wide-ranging consequences for the area, including Turkish military action and the blockade of a key fuel pipeline.
After members of the KRG voted for independence, Erdogan proffered a veiled threat that military force could be used to preserve the status quo in the region.
Erdogan said Turkey's neighbors "should not expect us to turn a blind eye."
READ MORE: Kurds go to polls in controversial independence referendum Live updates
"We will continue to work in accordance with the territorial integrity of Iraq," he said in a tweet.
Irak ve Suriye konusunda, ülkemiz için tehdit oluşturan konularda, gerektiğinde kullanmaktan çekinmeyeceğimiz tüm seçenekler önümüzdedir.

— Recep Tayyip Erdoğan (@RT_Erdogan) September 25, 2017
He added that with regards to Iraq and Syria "who pose a threat to our country… we use all options in front of us."
Erdogan's comments come on the back of a Turkish Foreign Ministry statement, which promised that "we will take every measure that emanates from international law and from the authority granted by the Grand National Assembly of Turkey."
Responding to the federated Kurdish region's attempt at a mandate for independence from Iraq, Erdogan said Turkey could block petrol coming from the region.
The two nations operate the Kirkuk-Ceyhan line, which at 970km long is one of Iraq's main means to export oil to the west.
BREAKING: Turkey's Erdogan denounces Iraqi Kurds' vote, says Turkish army is at Iraqi border, ready to take "necessary steps."

— The Associated Press (@AP) September 25, 2017
"After this, let's see through which channels the northern Iraqi regional government will send its oil, or where it will sell it," Erdogan said in a speech delivered Monday.
"We have the tap. The moment we close the tap, then it's done."
READ MORE: As Kirkuk boils, Kurdistan about to hurl Iraq into turmoil over 'independence' referendum
Turkey's south-eastern border has been the scene of a long-running separatist battle by those seeking a Kurdish state. According to International Crisis Group, which tracks violence in the region, an estimated 2,448 people have died in the conflict since 2016.
You can share this story on social media: