Puerto Rico asks for federal help to recover from Hurricane Maria
Published time: 26 Sep, 2017 04:23
Edited time: 30 Aug, 2018 09:20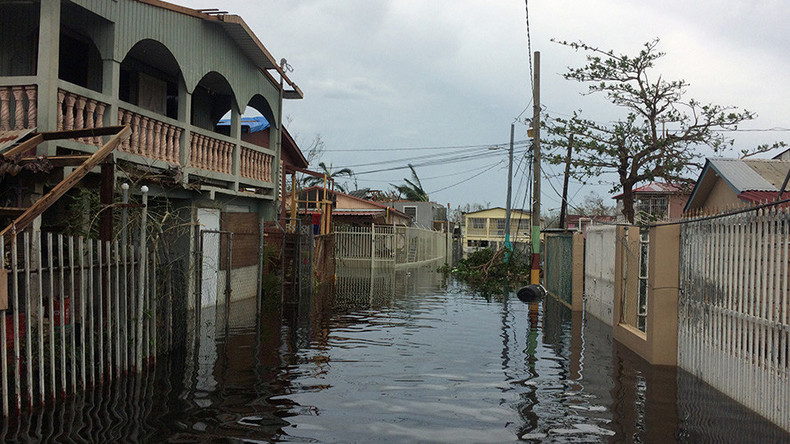 Food, water and medical aid are "top priorities" for Puerto Rico after a Category 4 storm lashed the island, but the US territory also needs to deal with crushing debt and collapsed infrastructure, said President Donald Trump.
In a series of tweets on Monday evening, Trump said that Puerto Rico's debt to Wall Street and the banks "must be dealt with" as the island continues to fight for federal funding after Hurricane Maria. Most of the island is without power, entire communities are flooded, and tens of thousands of residents were told to evacuate as several dams could fail at any moment.
Trump's social media announcements come after Puerto Rico's government asked a federal judge for up to four extra weeks to meet key deadlines in its bankruptcy proceedings, Reuters reported. Hurricane Maria further worsened the island's already fragile infrastructure.
READ MORE: Travelers stranded at Puerto Rico airport after Hurricane Maria
In court papers filed in US bankruptcy court in San Juan, the Puerto Rico Fiscal Agency and Financial Advisory Authority sought "urgent" permission from federal Judge Laura Taylor Swain, who currently oversees the commonwealth's $72 billion bankruptcy, to obtain a four-week extension on discovery proceedings in the case.
The authority also asked Swain to reschedule an upcoming court hearing from October 4 to October 18, and to move the hearing from San Juan to the federal court in New York where Swain is based.
While Democrats and other critics have accused the Trump administration of not paying enough attention to the island after the historic storm, White House Press Secretary Sarah Huckabee Sanders said the federal government has provided help "as quickly as possible."
"The federal response has been anything but slow," said Huckabee Sanders. "Once we have a greater insight into the full assessment of damage, then we'll be able to determine what additional funds are needed, but we're still in kind of that fact-finding process."
A federal control board which oversees Puerto Rico's finances has authorized $1 billion for hurricane relief, but Governor Ricardo Rossello says the commonwealth will inquire about more funding, according to Politico.
On Monday afternoon, residents evacuated from the northwestern corner of the island were told to stay put as the Guajataca Dam could fail at any time.
"Stay away or be swept away," the San Juan office of the National Weather Service said in a flash flooding warning. "River banks and culverts can become unstable and unsafe. Stay away from evacuated areas until told by emergency officials it is safe to return."
Nearly 70,000 people live downriver from the dam. Governor Rossello said he was working on the assumption that the 120-foot (35- meter) dam would eventually collapse, Reuters reported.
READ MORE: 'Move to higher ground now': Puerto Rico dam failing after Hurricane Maria
"I'd rather be wrong on that front than doing nothing and having that fail and costing people lives," Rossello said. "Most of the people in the near vicinity have evacuated."
It remained unclear whether he was referring to all 70,000 residents in the area at risk, or only the several hundred nearest to the dam. About 320 residents from the nearby towns had moved to safety, Reuters reported, citing local media.