Travelers stranded at Puerto Rico airport after Hurricane Maria
Published time: 26 Sep, 2017 00:37
Edited time: 26 Sep, 2017 07:00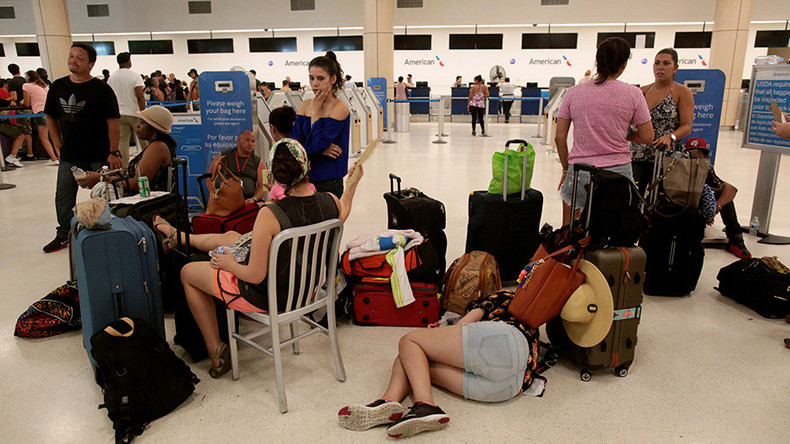 Hundreds of frustrated travelers remain stranded at the San Juan airport in Puerto Rico, as they wait for flights off the island battered by Hurricane Maria. With no power and no air conditioning, some are starting to feel desperate.
On Monday, as commercial flights started back up following the hurricane, many anxious travelers voiced their concerns over the poor quality of service and conditions at the Luis Munoz Marin International Airport (SJU). With limited flights available, hundreds of people remain stranded at the airport.
READ MORE: Hurricane Maria leaves Puerto Rico '100% without power'
Many are blaming airline companies such as Delta for poor service at SJU during the crisis, while others have expressed general dissatisfaction with the conditions in the airport in general.
"When we had nowhere to go you shoved 100s of us into a hot dark hole and limited our access to food and our surroundings like prisoners," passenger Claritza Brown said in a Facebook post that has since been deleted. "You dragged all of us through torment."
An unnamed traveler, who works as a cardiovascular nurse in Little Rock, Arkansas, told David Begnaud of CBS News that the situation in SJU is "inhumane."
Delta called the situation at SJU "a logistical nightmare," as many people have taken to fanning themselves with cardboard due to power outages.
American Airlines said they were bringing in 70,000 pounds of relief supplies on their flights, Begnaud reported.
"Damage and space constraints at Luis Munoz Marin International airport in San Juan continue to limit the number of flights airlines can operate to a total of 10 per day," Delta said in a statement, adding it will have three round-trip flights to SJU on Tuesday.
The SJU Airport Authority said the airport continues to operate under emergency plans, "so there is no air conditioning and certain services are limited."
The airport's control tower radar system has been completely knocked out by the storm, forcing pilots to take off and land using "visual confirmation," a method that takes more time, USA Today reported quoting Elvis Perez, a service clerk for American Airlines.
Perez said that around 300 airline employees were flown in from Miami to assist travelers with everything from ticketing to baggage handling.
The Federal Emergency Management Agency (FEMA) is currently looking for temporary workers from the US mainland and Puerto Rico, to assist the US territory in relief efforts following the Category 4 hurricane that left the island of 3.4 million residents entirely without power.