Navy evacuates over 5,000 personnel from Florida base ahead of Hurricane Irma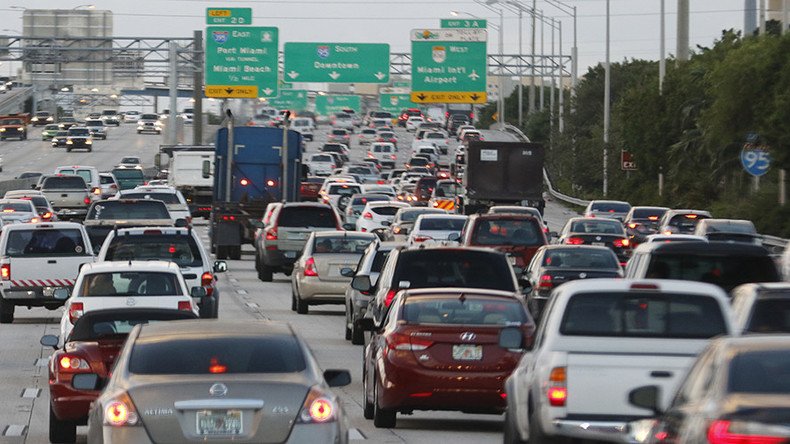 As Hurricane Irma sets its crosshairs on southeast Florida, the US Navy is evacuating thousands of sailors and the state's toll roads will become free for all. The Category 5 storm is one of the strongest recorded in the state's history.
More than 5,000 active duty contractors, families and civilians situated at Naval Air Station Key West have received mandatory orders to evacuate. Unidentified officials who know of the evacuation say 50 to 60 service members will stay behind at the base to perform essential functions, CNN reported.
The "mandatory evacuation of non-essential personnel and dependents from NAS Key West to safe haven within 300 miles of Atlanta, Georgia," was ordered by the Commander of the US Navy Region Southeast, according to Navy spokesman Bill Dougherty.
As Irma passes over Cuba, Dougherty said Naval Station Guantanamo Bay, Cuba, will shelter in place as the storm moves past north of Cuba.
"Joint Task Force Guantanamo is closely monitoring the progress of Irma and is taking appropriate measures to ensure the safety of the detainees. Plans and procedures are in place to ensure for the safety of the detainees throughout this event," Department of Defense spokesman Major Ben Sakrisson said.
Naval Submarine Base Kings Bay in Georgia has submarines that have been evacuated, or are preparing to be evacuated. Other Navy installations may be ordered to evacuate in the coming days.
Unidentified Navy officials have told CNN that aircraft, including fixed-wing planes and helicopters, will move inland from Mayport and Jacksonville, Florida.
Irma officially became a Category 5 storm Tuesday and is one of the strongest in recorded history on the Atlantic seaboard. The Virgin Islands, the Caribbean Islands, including Puerto Rico, will be hit with "potentially catastrophic" force as Irma continues to gain strength.
Monroe County and coastal areas of Miami-Dade County will evacuate starting Wednesday.
Residents looking to flee south Florida before Irma makes landfall will not be required to pay a toll. A suspension of the tolls took effect at 5 pm Tuesday, as the historic storm inches closer to the US mainland.
An unidentified spokeswoman for Florida Governor Rick Scott said the governor's orders apply to all roadways and toll systems in Florida "until further notice," the Miami Herald reported.
In a statement, Scott said: "Ensuring the safety of Florida families and visitors is our top priority and suspending tolls statewide will help people quickly evacuate and make it easier for all Floridians to access important hurricane supplies to ensure they are fully prepared."
"We are continuing to closely monitor the developments of Hurricane Irma and will continue to take aggressive action to keep our state safe," Scott added.
On Tuesday, President Donald Trump declared a pre-landfall emergency for Florida, Puerto Rico and the US Virgin Islands as Irma continues to pose a threat in the Atlantic. The authorization by the president allows FEMA to coordinate all relief efforts with the three areas in case of a disaster, according to The Hill.
You can share this story on social media: