Category 5 Hurricane Irma casts menacing eye toward Florida (VIDEOS)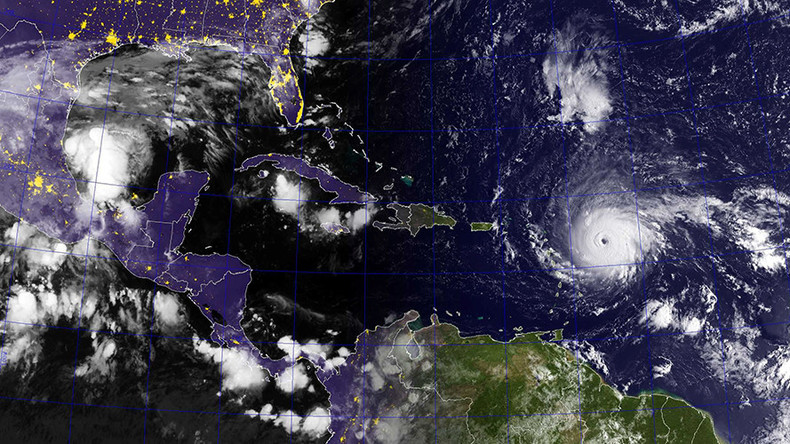 The state of Florida is taking no chances, declaring a state of emergency ahead of the arrival of category 5 Hurricane Irma later this week. NOAA has released satellite footage of the ferocious storm as it descends on the Caribbean.
On Tuesday, Trump separately declared states of emergency in Florida, Puerto Rico and the US Virgin Islands, ordering federal funds for emergency responses to incoming Hurricane Irma.
"Hurricane Irma is a major and life-threatening storm, and Florida must be prepared," Florida Governor Rick Scott Scott said in a statement Monday upon declaring a state of emergency.
"In Florida, we always prepare for the worst and hope for the best and while the exact path of Irma is not absolutely known at this time, we cannot afford to not be prepared," he added.
The hurricane currently sits 130 miles (210km) east of Antigua, moving at a speed of 15 mph (24km/h) and is expected to move west-northwest across the Caribbean toward the Florida coast for the remainder of this week. It is expected to remain a category 5 storm for the foreseeable future.
In comparison, Hurricane Harvey - which battered the Texas coastline, causing devastating flooding - peaked at category 4.
Irma's maximum sustained winds are currently approaching speeds of up to 185mph (295kph) with even stronger gusts expected, reports NOAA's National Hurricane Center.
Hurricane-force winds extend roughly 60 miles (95km) from Irma's center, with slightly weaker tropical-storm-force winds extending as far as 175 miles (280km).
Tropical Storm Jose has developed in the Atlantic in Irma's wake, though the National Hurricane Center has yet to issue coastal watches or warnings. The agency will continue to monitor Jose as it progresses in the coming days.