New York Times off the hook in Sarah Palin defamation suit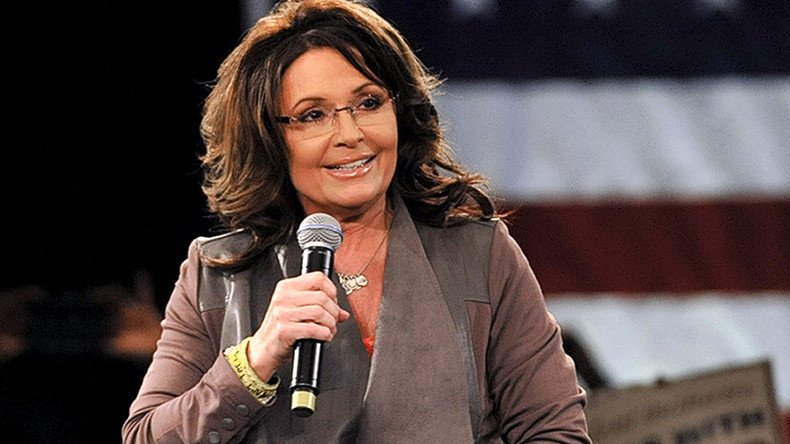 A federal judge has tossed Sarah Palin's defamation suit against the New York Times, finding no "actual malice" in the publishing of an op-ed blaming her for the shooting of a member of Congress.
New York Federal Judge Jed Rakoff dismissed the former Alaskan governor's defamation suit against the New York Times Tuesday. Rakoff said the Times did not act with "actual malice," when publishing the piece, according to court documents provided by the Times.
Palin accused the Times of printing a "fabricated story," which ignored "the law and its own policies," with regards to the June 14 article. The piece, which focused on gun control, was subsequently corrected the next day, the Daily News reported.
The story revolved around a map distributed by a political action committee supporting Palin, which depicted stylized crosshairs hovering over Democratic lawmaker's districts. The shooting detailed in the story was committed in Tuscon, Arizona, in January 2011 by Jared Loughner. The incident left six dead and Representative Gabby Giffords (D-Arizona) seriously injured.
The Times originally ran with a narrative that depicted Palin as fostering "political incitement" ahead of the January 8, 2011 tragedy. Palin launched her lawsuit soon after.
On August 16, the Times editorial page editor, James Bennet, took the stand to defend himself against publishing the article and said, "I had created an ambiguity that people were reading to say something I didn't mean to say."
There were many corrections in the June 14 article, but most importantly, the first one remains vital in understanding what the judge referred to as the mistake.
"An earlier version of this editorial incorrectly stated that a link existed between political incitement and the 2011 shooting of Representative Gabby Giffords. In fact, no such link was established."
Also, before it was corrected, the piece described the map the PAC distributed in 2011 before the Tuscon shooting as "Giffords and 19 other Democrats under stylized cross hairs." The Times then posted a correction. Then a correction was issued saying that the crosshairs referred to political districts and not the individual politicians.
READ MORE: Sarah Palin endorses Trump for president: 5 dramatic quotes from both politicians
In his decision, Rakoff threw out the lawsuit with prejudice, meaning Palin can not sue the Times for this matter in the future.
"We regret the errors we made in the editorial," the Times said following Rakoff's decision, according to the Daily News. "But we were pleased to see that the court acknowledged the importance of the prompt correction we made once we learned of the mistakes."
Palin can still appeal the ruling if she chooses to do so.
On June, 14, a lone gunman inspired by anti-Republican rhetoric opened fire at a congressional baseball practice in Virginia, striking Representative Steve Scalise (R-Louisiana) and leaving him seriously wounded.
You can share this story on social media: