US veterans vow to boycott Cleveland Browns over national anthem protest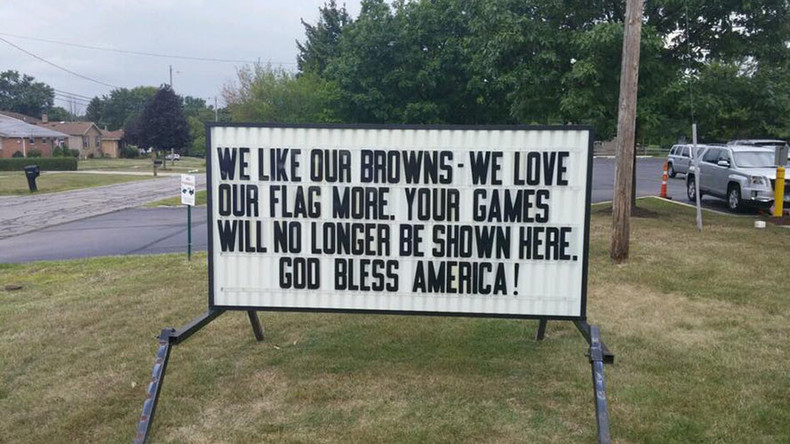 A society of war veterans has labeled stars of the Cleveland Browns a 'disgrace' after members of the NFL team staged the league's largest national anthem protest so far.
More than a dozen Browns players hunkered down on one knee during the Star-Spangled Banner before their preseason game against the New York Giants Monday.
Last year, former San Francisco 49ers quarterback Colin Kaepernick became the first to kneel during the US national anthem. His protest against social injustice, specifically the number of people of color being killed by US police, has since inspired his fellow professionals in the ranks of the NFL.
READ MORE: Two white players take part in NFL's largest anthem protest to date
In response to the Browns protest, Tim Zvoncheck, a commander in the Veterans of Foreign Wars (VFW) group in Strongsville, Ohio, has said that Cleveland Browns games will no longer be televised at their headquarters.
"I asked the membership of my post, VFW 3345, what they thought of the Cleveland Browns players kneeling during the National Anthem and the coaching staff backing their decision," the US Navy veteran said in a Facebook post.
"Just as I suspected, the 'boos' nearly tore the roof off. Effective immediately, VFW Post 3345 will no longer televise any Cleveland Browns games."
Zvoncheck added that until a formal apology is issued, VFW 3345 will continue to boycott the team.
"We love our Browns, but we love our flag more. God bless America and damn those who think differently," he concluded.
The Cleveland Browns controversy comes after recent incidents involving white supremacists rallies in Charlottesville. One person was killed and dozens of others injured when a car was driven into a group of people protesting the rallies in the Virginia town on August 12.
Monday's protest included Browns linebackers Jamie Collins and Christian Kirksey, running backs Isaiah Crowell, Duke Johnson and Terrence Magee.
READ MORE: Veterans group sues Pentagon after personal military records exposed
Wide receivers Kenny Britt and Ricardo Louis, as well as defensive back Calvin Pryor, also dropped to one knee during the anthem.
Seth DeValve, one of the first white NFL players to acknowledge the action, said he took part in the protest because the US "doesn't provide equal opportunity to everybody."
"It saddens me that in 2017 we have to do something like that," he said. "I wanted to support my African American teammates today who wanted to take a knee. We wanted to draw attention to the fact that there's things in this country that still need to change."