'Jews v Nazis' beer pong gets Georgia student expelled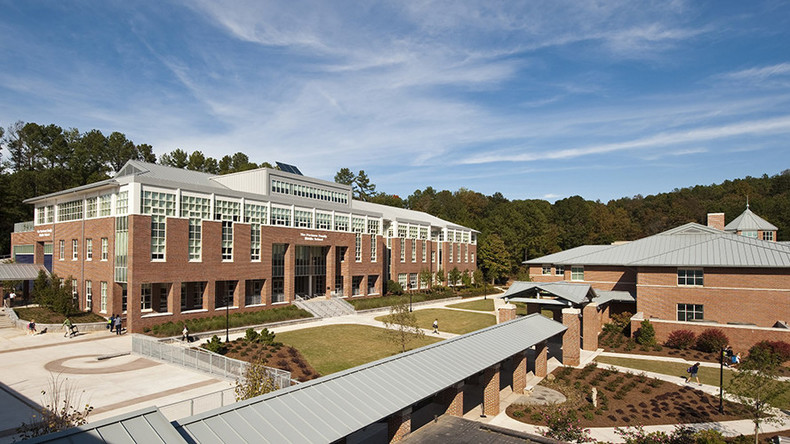 One student has been expelled and five others suspended after pictures emerged online of pupils from a Georgia school playing a 'Jews versus Nazis'-themed game of beer pong.
The group from the Lovett School, a prestigious co-educational school in north Atlanta, was pictured playing the drinking game at a party using cups set up in the shape of the Nazi swastika and the Jewish Star of David.
Rabbi Peter Berg alerted the school's headmaster to the image after seeing it posted on the social media platform Snapchat.
READ MORE: Additional charges against Charlottesville attack suspect bring total to 10 felonies
"The fact that someone could even conceive of such a game and then play it and think it's funny is beyond words," Berg told WSB-TV in Atlanta.
"To see that image as a Jewish person is something that the Jewish students in that school, it's gonna take a long time to get over, if ever," he added.
In a letter to parents, school officials said one student was expelled because he had misled them about his role in organizing and participating in the game, according to the Atlanta Journal-Constitution.
The student who hosted the 19 school seniors, three alumni and 10 other students and graduates, was suspended but will have to reapply to the school.
Director of communications for the school, Courtney Fowler, said in a statement to LawNewz: "The school pursued an immediate investigation, and significant responses – including disciplinary action and counseling – have been undertaken.
"We deeply appreciate the individuals and organizations across our community who are helping us to continue to learn and grow from this very troubling incident," Fowler added.
READ MORE: 'This is Nazi America': Woman confronts neighbor flying swastika flag (VIDEO)
In 1963, officials denied the entry application of Martin Luther King III, the oldest son of Martin Luther King Jr, and refused to integrate African American students. The school's then-headmaster resigned in protest at the decision. The school later become integrated in 1967.