'This is Nazi America': Woman confronts neighbor flying swastika flag (VIDEO)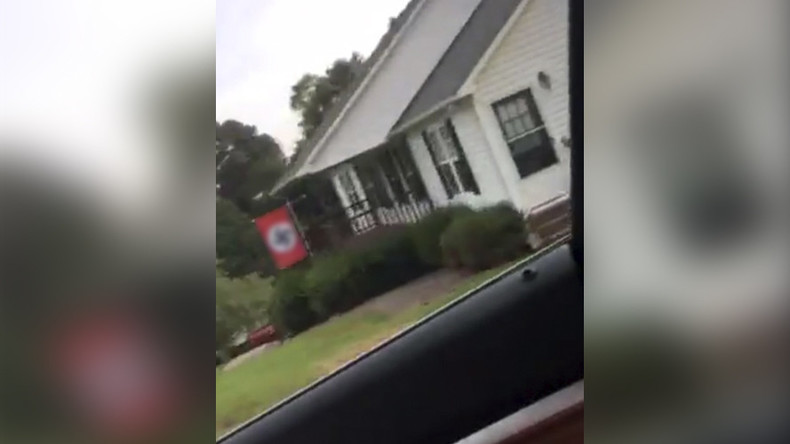 A North Carolina resident captured the shocking moment she confronted a neighbor flying a swastika flag, only to be told to "get the hell out of here… This is Nazi f*cking America."
Page Braswell posted footage of the tense exchange in the small city of Mount Holly to Facebook.
It shows how after noticing a Nazi Germany-style flag hanging from a house, she walked up the driveway of the property to speak with the owner.
In the clip, Braswell can be heard asking a man living at the property why a Nazi flag is being flown from the side of the house.
"What's it to you? Do you make the payments on this f*cking house? Okay, then don't f*cking worry about it," the man responds.
He then orders Braswell to return to her vehicle or face "trouble."
"You get your ass back in your car and get the hell out of here is the best thing I can tell you. I know your family, fuck you. Where do you live? What kind of flag do you fly?"
When Braswell tells him that she flies a rainbow symbol outside her home, he questions what type of person she is, before exclaiming that they are living in "Nazi f*cking America."
"I'm not a Nazi either. This is Nazi f*cking America. You get your ass in your car and get the hell out of here," the man says.
Commenters on the post have both praised and criticized Braswell for the incident.
"You literally put your life in danger there," one person stated.
Another added: "Good on you for confronting him, though I'd advise against trespassing on private property for obvious reasons."
Braswell said she wants everyone to "stand against Nazis."
You can share this story on social media: