Trump protesters & supporters converge ahead of Phoenix rally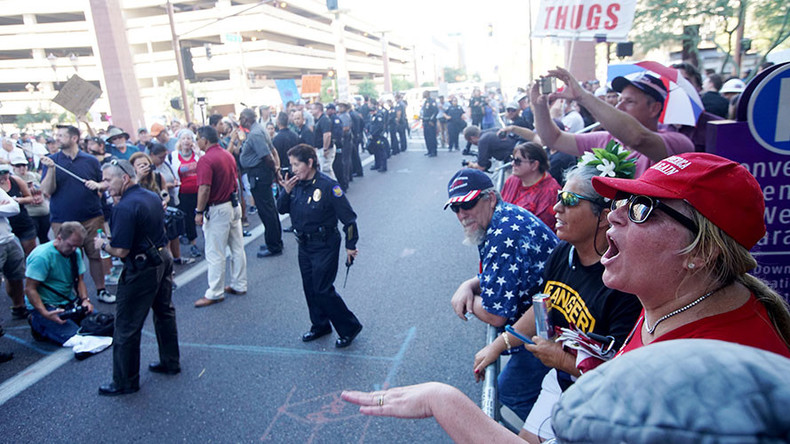 Protesters and Trump supporters are outside the Phoenix venue where the president will hold his first rally since his controversial response to violence in Charlottesville. Trump is expected to push his border wall, but not pardon ex-Sheriff Joe Arpaio.
President Donald Trump's first visit to Arizona as president began with touring the main US Border Patrol base in Yuma, where he also met and shook hands with US Marines at Air Station Yuma.
Most of the action Tuesday, however, was in Phoenix, where people poured into the downtown area in anticipation of the campaign-style rally.
Trump's political clout isn't quite in ashes, but he is looking for a comeback Tuesday evening in Phoenix. Since August 12, when an alt-right demonstration in Charlottesville, Virginia, ended in deadly violence, Trump has faced a backlash from both political parties at all levels of government, as well as in the media.
A counter-protester in Charlottesville was killed and 18 others injured in a car ramming incident that came after clashes between the rival groups. Trump blamed"both sides" for the violence and initially did not name or characterize the alt-right groups, which included neo-Nazis and Ku Klux Klan members.
At the downtown Phoenix Convention Center at 7pm, Trump will address roughly 19,000 supporters. Many showed up early, as did protesters against Trump. The crowds have been mostly peaceful, but police consider the Capitol, the Confederate monument, the Interstate-10 freeway and other portions of downtown Phoenix to be potential trouble spots, KPNX reported.
Earlier Tuesday on Air Force One, White House Press Secretary Sarah Huckabee Sanders told reporters that Trump would not be pardoning former Maricopa County sheriff Joe Arpaio, at least not at the rally. Arpaio, who was convicted of contempt late last month over his targeting of illegal immigrants, is set to be sentenced in October.
Arpaio was a supporter of Trump's presidential campaign, and Trump did win Arizona, but Republicans deny accusations that a pardon would amount to corruption. Some believe Arpaio was politically targeted by the Obama administration.
The ex-sheriff refused Monday to rule out a Tuesday pardon, telling Politico: "I've been doing rallies with him many, many times, and sometimes things are done the last minute."
Phoenix Mayor Greg Stanton and other Democrats in Arizona have urged the president to cancel the campaign-style rally. Even without an Arpaio pardon, they also oppose the timing of the event, so soon after Charlottesville and Trump's reaction. Stanton said that the country "is still healing" and that Trump would further division.
Trump also has critics in his own party in the state. Governor Doug Ducey will only greet the president as he deplanes Air Force One, but Ducey will not be at the rally. He tells reporters that his number one concern is assuring the event is secure.
Both US senators of Arizona, Republicans John McCain and Jeff Flake, have had their trade of combative words with Trump. The president may take a swipe at Flake during the rally, as Flake is up for reelection in 2018 and has a book out strongly criticizing Trump's influence on the GOP.
Trump will need the support of Congress to advance his immigration agenda and particularly the border wall before September 30, when the US government runs out of funds.
Earlier Tuesday during his tour of the US Border Patrol base, he viewed an MQ-9 Predator B drone, a UH-60 Black Hawk Helicopter and the turboprop Super King Air 350ER aircraft, the White House said. The wall, however, remains his top priority for congressional funding on immigration enforcement. So far, the House of Representatives has approved $1.6 billion in funding to build 28 miles of a wall as well as 46 miles of new and secondary fencing, according to the White House.
Already Trump and the US Department of Homeland Security have taken executive actions to set aside $20 million of unspent appropriations for border security, fencing, and infrastructure, the White House said.