Embattled ex-sheriff Joe Arpaio may be saved by a Trump pardon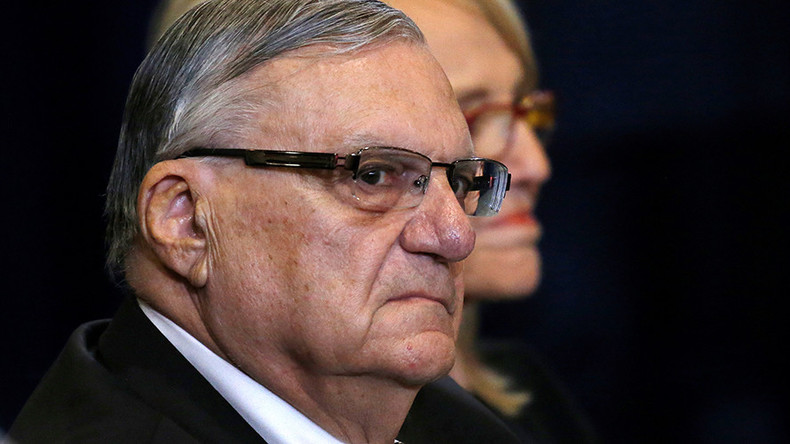 President Donald Trump is considering pardoning ex-Sheriff Joe Arpaio of Maricopa County, Arizona. Arpaio was convicted of disregarding an Arizona judge's ruling on the policing of undocumented immigrants.
Trump expressed that he didn't agree with the way the ex-sheriff had been treated in regards to his conviction. And on Sunday night, Trump told Fox News, "I am seriously considering a pardon for Sheriff Arpaio."
"He has done a lot in the fight against illegal immigration. He's a great American patriot and I hate to see what has happened to him," Trump said. "Is there anyone in local law enforcement who has done more to crack down on illegal immigration than Sheriff Joe?"
"He has protected people from crimes and saved lives. He doesn't deserve to be treated this way," Trump added.
The ex-sheriff said he was surprised the president was aware of his legal problems when asked about the possible pardon.
"I am happy he understands the case," Arpaio told Fox News. "I would accept the pardon because I am 100 percent not guilty."
On July 31, Arpaio, 85, was convicted of the misdemeanor of contempt of court by US District Judge Susan Bolton. Bolton's ruling stems from the 2011 decision by a federal judge, which stated that Arpaio needed to stop traffic patrols targeting undocumented immigrants. The 2011 ruling also stated latinos were specifically being targeted by Arpaio's policies.
Arpaio refused for 17 months to stop the illegal practices while he was still sheriff, which has now led to his conviction. He eventually lost his bid for reelection as sheriff in Maricopa County, Arizona in November 2016.
The sentencing in Arpaio's case will take place on October 5 and he faces 6 months in jail. His attorney says that Arpaio will appeal the decision so he can get a trial by jury. Although, some attorneys believe that due to his age and the fact he has no prior convictions, he will not face jail time, according to Fox News.
READ MORE: Trump ally & ex-sheriff goes on trial over targeting immigrants
Arpaio, who became known as "America's toughest sheriff," ultimately admitted he prolonged his patrols, but said he did not intend to break the law. He says one of his former attorneys did not fully explain to him the restrictions in the 2011 court order.
Should the president decide to pardon Arpaio, Trump said it will come within the next few days. "I might do it right away, maybe early this week. I am seriously thinking about it," Fox News reported him as saying.
Arpaio announced his support for President Trump in January 2016 during the hotly contested Republican primary for the party's presidential nomination.