'Economic war with China is everything': Trump's chief strategist in candid interview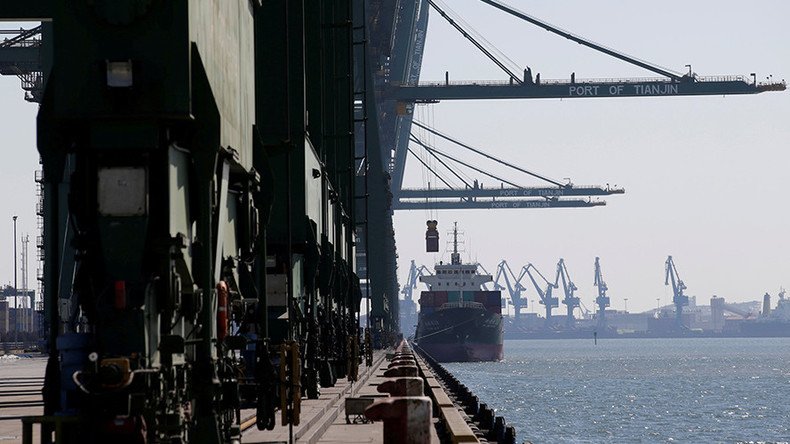 Ethno-nationalism is for 'losers' but winning the economic war with China means everything for the United States, President Donald Trump's chief strategist Steve Bannon said in a rare interview, outlining his plan to fight Beijing.
China is "crushing" the US in a trade war, Bannon told Robert Kuttner of the American Prospect Magazine. "One of us is going to be a hegemon in 25 or 30 years and it's gonna be them if we go down this path."
Bannon said those in the Trump administration who oppose economic sanctions against China "are wetting themselves," and that he's working to get more "trade hawks" into the government.
China is not likely to do more to rein in North Korea, "it's just a sideshow," Trump's chief strategist opined, and there is no reason not to proceed with tough trade sanctions against Beijing.
The logic of mutually assured destruction will stop North Korea from attacking the US or its ally South Korea, Bannon said, and the US, for its part, will not use military power against Pyongyang.
"There's no military solution [to North Korea's nuclear threats], forget it. Until somebody solves the part of the equation that shows me that ten million people in Seoul don't die in the first 30 minutes from conventional weapons, I don't know what you're talking about, there's no military solution here, they got us," Kuttner quotes Bannon as saying.
Trump had previously warned that North Korea would face America's "fire and fury" if Pyongyang makes more threats against the US.
On Monday, Trump set in motion a trade investigation against China for its alleged theft of intellectual property, as well practices that force American companies to transfer technology as a condition of market access ‒ sanctions for which Bannon has been pushing from the beginning of the administration.
Kuttner, a writer and editor of a left-wing publication, said he was puzzled when Bannon called him to talk about China policy. Bannon explained that he wanted to form an outside coalition of trade hawks that includes left as well as right.
The journalist accused Bannon of supporting white nationalism during his time at Breitbart News, and asked how he would reconcile his program of economic nationalism with "the ugly white nationalism epitomized by the racist violence in Charlottesville."
"Ethno-nationalism—it's losers. It's a fringe element. I think the media plays it up too much, and we gotta help crush it, you know, uh, help crush it more," Bannon responded, adding: "These guys are a collection of clowns."
Multiple news outlets have reported on a feud between Bannon and H.R. McMaster, Trump's national security adviser, over staffing decisions as well as strategy on Iran and Afghanistan.
Reports of infighting within the administration have stirred rumors that Trump is under pressure to fire Bannon.
Asked about Bannon, whom many Democrats and media have accused of supporting white nationalism, the president called him a friend.
"He is not a racist, I can tell you that. He's a good person," Trump said on Tuesday. "I think the press treats him very unfairly."
Citing unnamed "associates" of Bannon, Axios reported on Thursday that the chief strategist did not actually intend to give an interview, only to discuss Kuttner's China article with the author.
Bannon is a former executive of Breitbart News and has worked in media for a long time, which makes such a mistake seem unlikely. Kuttner has said the question of whether the phone call was on or off the record never came up.
You can share this story on social media: