Baltimore removes 4 Confederate statues overnight amid fears of violence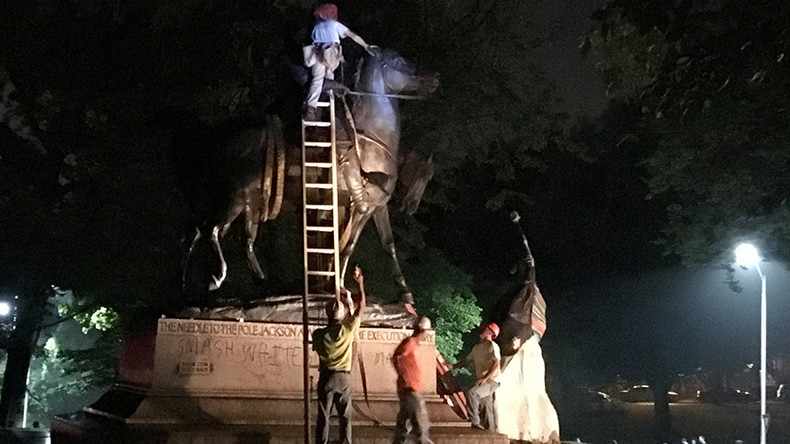 Baltimore authorities tore down and hauled away four Confederate monuments hours after the city's council voted for the move. The Baltimore mayor said she wanted to avoid violence.
Within hours of Tuesday night's decision, crews had removed statues of Confederate Generals Robert E. Lee and Thomas J. "Stonewall" Jackson, who led the South against Lincoln's Union army during the American Civil War.
They also removed statues honoring Confederate women and Roger B. Taney, the author of the Supreme Court's Dred Scott decision, which denied granting black people citizenship.
"It's done," Baltimore Mayor Catherine Pugh said Wednesday, according to the Baltimore Sun. "They needed to come down. My concern is for the safety and security of our people. We moved as quickly as we could."
Several local activist groups were preparing their own plans to tear down the statues, had the city not acted.
This comes amid a major push across the US to remove Confederate monuments from public squares following violence at a rally in Charlottesville, Virginia last weekend where white supremacists gathered to protest against the planned relocation of monument to Robert Lee. At the rally an alleged white supremacist drove his car into a group of counter-protesters, killing a woman and injuring 19 people.
On Tuesday, Around 100 protesters in Durham, North Carolina toppled a statue honoring Confederate soldiers. The police did not interfere, but later they arrested a woman who allegedly participated in the action and charged her with disorderly conduct and participation in a riot that involved property damage.
However, authorities in many states, including North Carolina, have called for removing Confederate statues, which are seen by many as symbols of support for slavery and racism.
"Some people cling to the belief that the Civil War was fought over states' rights. But history is not on their side. We cannot continue to glorify a war against the United States of America fought in the defense of slavery. These monuments should come down," North Carolina Governor Roy Cooper (D) wrote on Tuesday.
This week, Gainesville, Florida removed a Confederate statue commemorating men who died fighting for the South in the Civil War.
The mayor of Lexington, Kentucky said that Confederate-era symbols – statues of Generals John C. Breckinridge and John Hunt Morgan – will be taken down from the city's historic courthouse precinct.
Birmingham, Alabama Mayor William Bell has announced that he has ordered a 52-ft Confederate Soldiers and Sailors monument to be covered with plastic and plywood in the city's Linn Park. An Alabama law, passed in May, states that the statue cannot be removed, but it will now be covered up until the city can look at legal options to have it removed, according to WBRC.
Tennessee Governor Bill Haslam (R) called on state officials Monday to remove a bust of Nathan Bedford Forrest, a Confederate general who was also an early leader of the Ku Klux Klan. Protesters earlier threw a black jacket over the head of the bust while demanding, "Tear it down!"
A number of Confederate monuments have been vandalized this week, including one in Tampa, Florida, where paint was tossed on and around a memorial with derogatory comments scrawled in the paint.
In an apparent response to the trend, the Lincoln Memorial in Washington was vandalized with a curse word spray painted one of its columns on Tuesday.
Amid the movement across the US to take down Confederate symbols, President Donald Trump appeared to defend the statues, saying: "This week it's Robert E. Lee. I notice that Stonewall Jackson's coming down. I wonder, is it George Washington next week, and is it Thomas Jefferson the week after? You know you really do have to ask yourself, where does it stop?"
The president referred to the fact that both Washington and Jefferson owned slaves.
While the violence in Charlottesville triggered the latest push to remove Confederate symbols from city squares across the US, the previous push came following the June 2015 shooting of nine African American churchgoers at the Emanuel African Methodist Episcopal Church in Charleston, South Carolina.
South Carolina authorities responded by removing the Confederate flag monument from the state capitol grounds in July that year.
The University of Texas in Austin took down its monument to Confederate President Jefferson Davis in August.
In April this year, New Orleans began the planned removal of several Confederate monuments in the city, including the statues honoring Lee, Davis, and General P.G.T. Beauregard, who was born in the city.
The war that pitted 11 Southern states against the rest of the Union began in April 1861 and ended in May 1865. It claimed the lives of around 620,000 men, which remains by far the greatest death toll of any war in US history.
You can share this story on social media: