'Both sides to blame' for Charlottesville violence, Trump says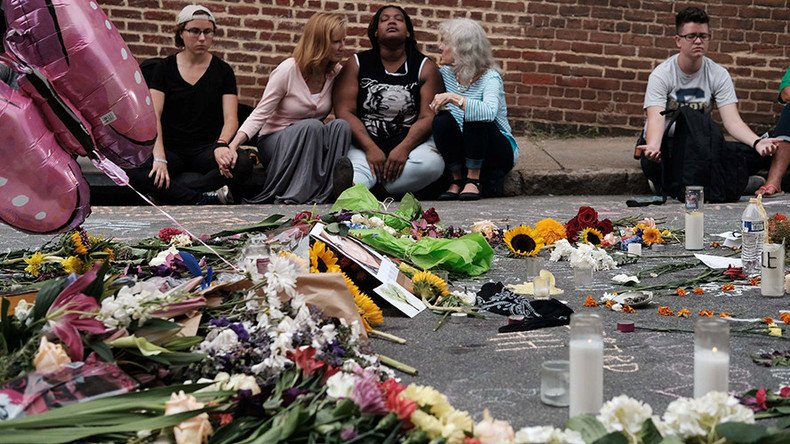 US President Donald Trump has denounced the driver of the car that smashed into a crowd of protesters in Charlottesville, Virginia. He also defended his top adviser Steve Bannon and challenged media for not reporting on the violence fully.
Trump, who was in New York to announce a new executive initiative on infrastructure, took questions from the media about Saturday's events in Charlottesville, when one person was killed and 19 were injured when a car reportedly driven by one of the participants in the right-wing rally ran into a crowd.
"I wanted to make sure, unlike most politicians, that the statement I made was correct," Trump said, when reporters asked him why he waited until Monday to denounce neo-Nazis and the Ku Klux Klan members present at the rally.
"Unlike you, unlike the media, before I make a statement I like to know the facts," he added.
Trump described Heather Heyer, who was killed in the incident, as "an incredible young woman," and the driver of the car as "a disgrace to himself, his family and his country."
"The driver of the car is a murderer, and what he did is a horrible, inexcusable thing," the president added.
Asked about his chief strategist Stephen Bannon, whom the Democrats and some media have accused of supporting white nationalism, the president called him a friend.
"He is not a racist, I can tell you that. He's a good person," Trump said. "I think the press treats him very unfairly."
The conference became heated when reporters asked Trump about the "alt-right." The president pointed out that many of the counter-protesters were armed, violent, and did not have a permit to gather or march, unlike the right-wing rally that opposed the decision to remove a monument to Confederate General Robert E. Lee.
"Not all of those people were neo-Nazis. Not all of those people were white supremacists," Trump told reporters. "I think there's blame on both sides. I have no doubt about it, and you have no doubt about it either."
The president also objected to the push to take down Confederate monuments as "changing history."
"George Washington was a slaveowner. So will George Washington now lose his status? Are we going to take down statues to George Washington?" Trump asked reporters, turning the tables. "How about Thomas Jefferson? He was a major slave owner."
In the days since the incident in Charlottesville, several cities and towns across the US have decided to take down Confederate monuments. In addition, activists attempted to destroy one monument in Atlanta, Georgia on Sunday, while another group tore down a monument in Durham, North Carolina on Monday.
You can share this story on social media: