Lincoln Memorial defaced as officials across US reassess Confederate-era monuments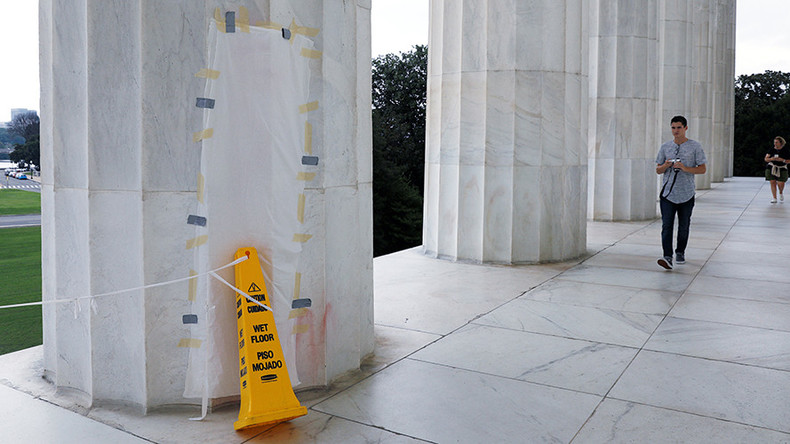 The Lincoln Memorial has been vandalized with the words "F*** law." Crews are working to remove the red spray paint, as Confederate-era statues are being vandalized or removed across the US.
The clean-up crew will attempt to apply a "mild, gel-type architectural paint stripper" and let it set on the stone for about one hour before rinsing the area with "clean, potable" water, ABC News reported.
National Park Service officials say the red spray paint appeared on one of the memorial's columns. Also discovered around the same time was a nearby Smithsonian wayfinding sign defaced with silver spray paint.
This latest vandalism coincides with several recent state and local policy changes regarding the removal or covering of Confederate-era statues.
A day after an incident in Durham, North Carolina, where people illegally tore down a confederate statue, Governor Roy Cooper (D) penned a response to the recent racially driven events in the US.
"Some people cling to the belief that the Civil War was fought over states' rights. But history is not on their side. We cannot continue to glorify a war against the United States of America fought in the defense of slavery. These monuments should come down," Cooper wrote, according to Medium.
On Tuesday, police arrested a woman named Takiyah Thompson in connection with the toppling of the Confederate statue. She is charged with disorderly conduct by injury to a statue; damage to real property; participation in a riot with property damage in excess of $1,500 and inciting others to riot where there is property damage in excess of $1,500, WNCN reported.
READ MORE: Protesters tear down Confederate statue outside North Carolina courtroom (VIDEO)
In another development, Birmingham, Alabama Mayor William Bell has announced that he has ordered a 52-foot Confederate Soldiers and Sailors monument to be covered with plastic and plywood in Birmingham's Linn Park. Alabama law states that the statue can not be removed, but it will now be covered up until the city can look at legal options to have it removed, according to WBRC.
READ MORE: Baltimore votes to rid itself of 4 Confederate statues
In Maryland, Governor Larry Hogan (D) called for a statue of Chief Justice Roger Brooke Taney to be removed from the State House in Annapolis. Taney authored the infamous 1857 Supreme Court decision of Dred Scott vs. Sanford, which held that African-Americans "had no rights, which the white man was bound to respect,"according to WRC.