'Covfefe' ahead: Ohio woman gets approval for plates with Trump tweet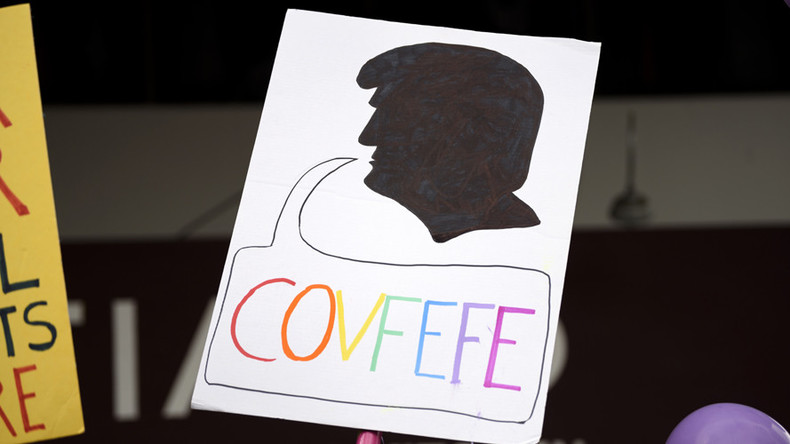 Authorities in Ohio have allowed a mystery word from a tweet by US President Donald Trump to be used on a car license plate. As no one save Trump knows the real meaning of 'covfefe,' the request was not considered inappropriate.
On May 30, Trump sent out a confounding tweet that said only, "Despite the constant negative press covfefe." It quickly went viral, generating over 120,000 retweets and 160,000 likes within just four hours – before it was deleted without explanation.
While the rest of the US and much of the world tried to make sense of it, Brittany Scott of Cortland, Ohio decided to use it as her a customized license plate, the Columbus Dispatch reports. Cortland is about 64 miles (103km) southeast of Cleveland.
Read more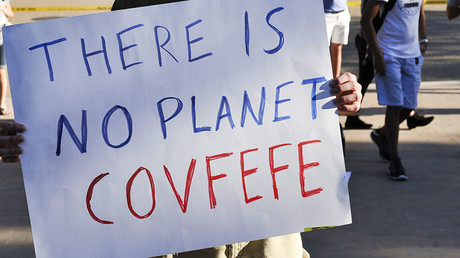 Scott, 29, submitted her request to the Ohio Bureau of Motor Vehicles (BMV), with a simple description: "A tweet from our 45th president of the United States."
"That was as close as I could get to hoping they would push it through," she told the Dispatch. "I really didn't think they would."
The BMV examines approximately 500 applications for vanity plates daily, and many are rejected if even a single member of the committee decides they are profane, obscene, sexually explicit, or could provoke violence or advocate lawlessness.
"Some can be humorous, depending on your level of humor," committee head Julie Simkins said. "Other times, they just cross the line."
Among the rejected requests cited by the Dispatch were SND NUD5 (send nudes), SLO TURD, and NOFARTN.
Scott is aware that the word may not be funny forever, but as she pointed out, "It's not a tattoo; it's just a license plate. I can change it any time."
Her COVFEFE plate may have been an Ohio first, but in the months since the president's tweet, drivers in over 20 US states have claimed vanity plates with the mystery word.
Who can figure out the true meaning of "covfefe" ??? Enjoy!

— Donald J. Trump (@realDonaldTrump) May 31, 2017
In June, one of the president's critics proposed a law that would give tweets from Trump's private account the same status as those from the official @POTUS version. Under the proposal, all tweets would have to be archived under the Presidential Records Act, and deleting them would be "subject to disciplinary action."
Representative Mike Quigley (D-Illinois) named the bill the "Communications Over Various Feeds Electronically for Engagement" – or COVFEFE – Act.