'Covfefe™': Russian company seeks to trademark Trump-ism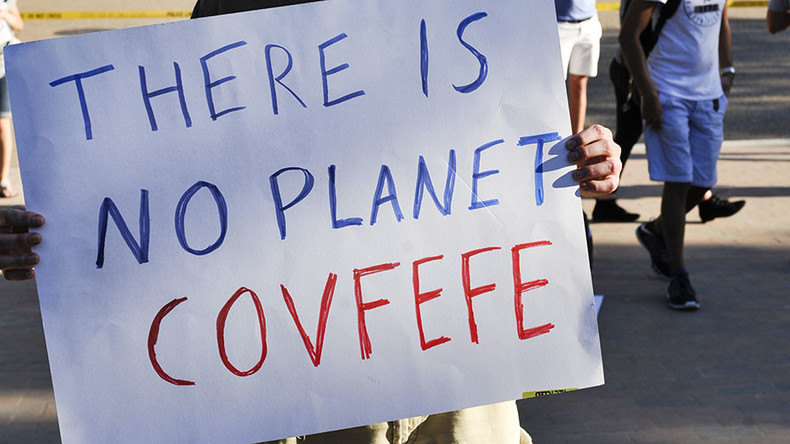 A Russian internet company has applied for registration of the trademark 'Covfefe', the mysterious word that appeared in a tweet by US President Donald Trump this week. Followers across the world were racking their brains as to what it could mean.
Trump left everyone dazed and confused when he wrote on Twitter on Tuesday: "Despite the constant negative press covfefe," without finishing his thought. The post quickly went viral, generating over 120,000 retweets and 160,000 likes within just four hours.
The neologism has inspired a St. Petersburg-based internet agency to file a request to register the word 'covfefe' as a trademark.
"The online agency LED has filed an application for registration of the trademark," the company said in a press release, adding that the trademark could be registered for coffee, soft drinks, advertising and marketing events, cafes, restaurants, catering and the organization of various events.
The agency has not disclosed plans for the use of the word yet, with Maria Komendantova, LED's PR director, noting that "Covfefe as a brand has great potential, and we will certainly use it."
Thousands of netizens debated what the word 'covfefe' could possibly mean, with some believing "Covfefe is Trump's safeword and he's finally telling us he's had enough."
White House press secretary Sean Spicer didn't make things much clearer when he told reporters on Wednesday that "The president and a small group of people know exactly what he meant."
Trump's cryptic message was eventually deleted shortly before 10:00 GMT, some five hours after it was originally posted. The indefatigable US president later posted a new message that read "Who can figure out the true meaning of 'covfefe' ???"
READ MORE: WikiLeaks trolls Trump hard over president's 'Comey tapes' tweet
His apparent typo triggered an avalanche of reactions from Twitter users, burning the midnight oil making fun of this invented word.