'Russia collusion' theorist Senator Blumenthal lied about his Vietnam service – Trump tweets
Published time: 7 Aug, 2017 17:52
Edited time: 8 Aug, 2017 12:11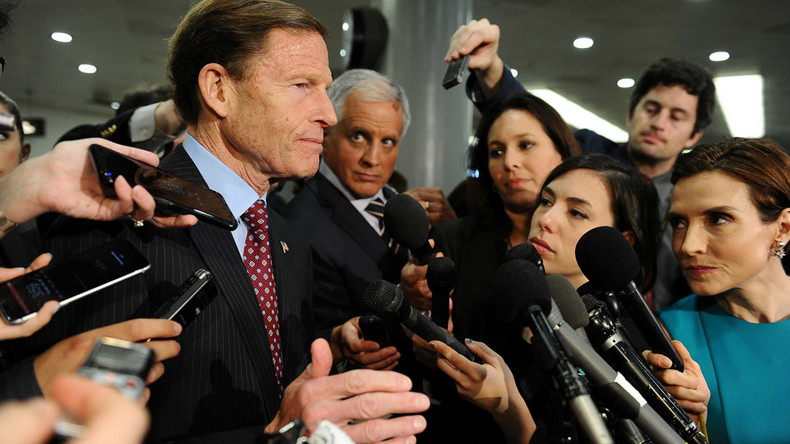 In a series of tweets, US President Donald Trump accused Senator Richard Blumenthal of lying about his service in the Vietnam War, after Blumenthal accused the Trump campaign of taking "payouts" from Moscow.
Trump, who is currently working from his golf resort in New Jersey while the White House is under renovation, lambasted the Democrat from Connecticut by bringing up a controversy about Blumenthal's military service in Vietnam.
"Never in US history has anyone lied or defrauded voters like Senator Richard Blumenthal," Trump tweeted Monday, dubbing his critic "a phony Vietnam con artist" who is now a leading advocate of "hoax Russian collusion" charges.
Blumenthal was elected to the Senate in 2010, defeating a Republican challenger for the seat vacated by the retiring Democrat Chris Dodd. During his campaign, it emerged that he had spoken about being "in Vietnam," but never actually saw combat during that war. Blumenthal served in the US Marine Corps Reserve from 1970 to 1976, and was discharged with the rank of sergeant.
READ MORE: Trump: Investigators should look into Hillary's emails, not fake Russia story (VIDEO)
The senator responded on Monday morning, accusing Trump of "bullying" and saying that this was not about him, but about the integrity of the special counsel.
Several hours later, Trump fired back.
The spat began on Saturday, when Blumenthal accused Trump's campaign of collusion with Russia in the 2016 US election by accepting "financial payouts straight out of their playbook sabotaging democracies," and called on the Special Counsel Robert Mueller to investigate the allegations.
The Connecticut Democrat has been an outspoken advocate of the "Russian collusion" theory. In June, he led the 196 Democratic lawmakers in filing a complaint before a federal judge, accusing the president of accepting "emoluments" ‒ payments or gifts from foreign states without congressional approval ‒ in violation of the Constitution.
"The president's failure to tell us about these emoluments, to disclose the payments and benefits that he is receiving, mean that we cannot do our job," Blumenthal said at the time.