Trump: Investigators should look into Hillary's emails, not fake Russia story (VIDEO)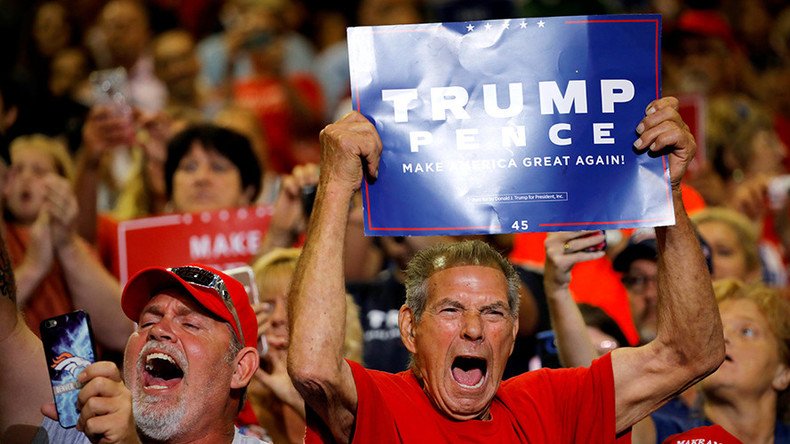 President Donald Trump left a West Virginia crowd chanting, "Lock her up!" at his latest campaign-style rally, after he called on prosecutors to look into Hillary Clinton's deleted emails.
On Thursday, Trump traveled to Huntington, West Virginia to host a "Make America Great Again" rally. The president said Democrats were "cheating" American voters by obsessing over the investigation into alleged Russian meddling in the 2016 US presidential election and told his supporters that they are "on the side of the special interest."
"The reason why Democrats only talk about the totally made up Russian story is because they have no message, no agenda and no vision," Trump said.
Trump went on to blame Democrats and the media for ignoring his accomplishments as president, and called the investigation into Russia's alleged meddling in the 2016 US presidential election "a total fabrication."
"It's just an excuse for the greatest loss in the history of American politics. That's all it is," Trump said. "What the prosecutors should be looking at is Hillary Clinton's 33,000 deleted emails."
Trump said investigators should also be looking into the Clintons for their paid speeches in Russia and Clinton selling uranium that Trump said "is now in the hands of very angry Russians."
Trump repeatedly denied that his campaign colluded with the Russians, telling his supporters they "didn't win because of Russia, we won because of you."
He added that the Democrats are trying to "cheat" voters out of leadership they want with a story that he called "demeaning to our country and demeaning to our Constitution."
"Democrat lawmakers can decide, they can continue their obsession with the Russian hoax, or they can serve the interests of the American people," Trump said. "Try winning at the voter booth."
Trump prefaced the rally by promising to make a "very big announcement" at an earlier event. In the middle of his speech, Trump brought Jim Justice, the Democratic Governor of West Virginia, on the stage. Justice then announced he plans to switch parties and become a Republican.
"I can't help you anymore being a Democrat governor. So tomorrow, I will be changing my registration to Republican," Justice said.
The president also praised the recently announced Reforming American Immigration for Strong Employment (RAISE) Act, which would issue green cards to immigrants on the basis of merit, favoring able-bodied English-speaking immigrants, rather than the current diversity lottery system.
"We only want to admit people into our country who love our people and who share our values," Trump said.
The US president also reaffirmed his support for law enforcement, the Second Amendment, border security, and putting America first by bringing back factory jobs and putting coal miners back to work.
Trump ended his speech by urging his supporters to call their representatives and tell them to repeal and replace the Affordable Care Act, also known as Obamacare.
"Congress must do its job, keep its promise, live up to its word and repeal and replace Obamacare," Trump said to thunderous applause. "You have to do it."
You can share this story on social media: