Mueller enlists DC grand jury in Russia probe – report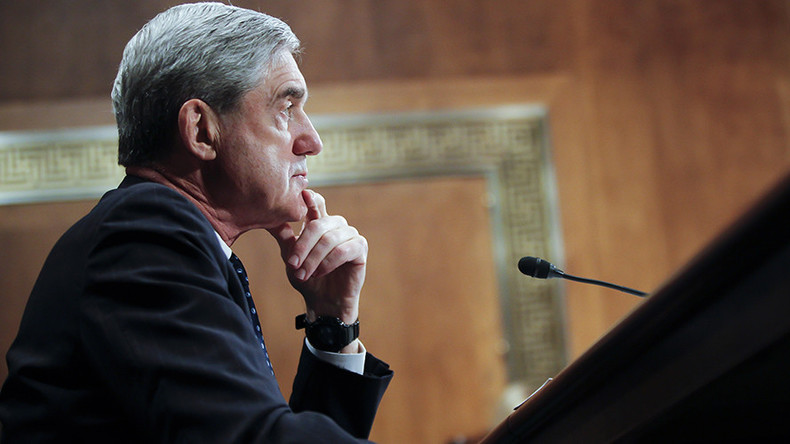 Special Counsel Robert Mueller has reportedly impaneled a grand jury and expanded his team of investigators into alleged Russian meddling in the 2016 election. Meanwhile, bipartisan legislation to protect Mueller from being fired is before the Senate.
Mueller has reportedly impaneled a grand jury in Washington as part of the ongoing Russia investigation, which also includes looking into possible collusion between President Donald Trump's campaign team and the Russian government, the Wall Street Journal reported Thursday, citing two unnamed sources familiar with the matter.
When Mueller was appointed special counsel in May, there was already a grand jury looking into former national security adviser Michael Flynn. If the reports that Mueller is enlisting a new grand jury are true, it would indicate that the investigation is not slowing down but gathering pace.
"This is yet a further sign that there is a long-term, large-scale series of prosecutions being contemplated and being pursued by the special counsel," Stephen Vladeck, a law professor at the University of Texas, told the Wall Street Journal.
"If there was already a grand jury in Alexandria looking at Flynn, there would be no need to reinvent the wheel for the same guy. This suggests that the investigation is bigger and wider than Flynn, perhaps substantially so."
Adam Schiff (D-California), the top ranking Democrat on the House Intelligence Committee, also said the news that Mueller impaneled a new grand jury "suggests his work is proceeding."
Mueller's use of a grand jury could allow his team to issue subpoenas, compel witnesses to testify and seek indictments.
White House special counsel Ty Cobb said he was not aware of Mueller enrolling a new grand jury.
"Grand jury matters are typically secret," Cobb told the Wall Street Journal. "The White House favors anything that accelerates the conclusion of his work fairly. The White House is committed to fully cooperating with Mr. Mueller."
John Dowd, Trump's lead outside lawyer, also said he was not aware of Mueller's move to impanel a new grand jury, but said the president was most likely not the target of prosecutors.
"With respect to reports of a federal grand jury, I have no reason to believe that President Trump is being investigated," Dowd said, according to USA Today.
On Thursday, Reuters reported that grand jury subpoenas have been issued in connection with the meeting that Donald Trump Jr. had with a Russian lawyer and others in June 2016.
Last month, Trump Jr released emails related to a meeting he and other members of the Trump campaign held with Natalia Veselnitskaya after she promised to provide damaging information on former Democratic presidential candidate Hillary Clinton during the 2016 elections.
At the White House press briefing Tuesday, White House Press Secretary Sarah Huckabee Sanders denied that Trump dictated the statement released by his son, instead, she said, he "weighed in, offered suggestion like any father would do."
"The statement that was issued was true, and there were no inaccuracies in the statement," Huckabee Sanders said, according to the White House. "The only thing I see misleading is a year's worth of stories that have been fueling a false narrative about this Russia collusion, and a phony scandal based on anonymous sources."
Trump has repeatedly denied any collusion between his team and the Russians. He has also called the investigation a "witch hunt" and criticized Mueller and his team for having conflicts of interest.
On Thursday, Senators Thom Tillis (R-North Carolina) and Chris Coons (D-Delaware) introduced bipartisan legislation to protect Mueller from being fired by Trump during the investigation.
The Special Counsel Integrity Act would add a judicial check to the president's ability to remove a special counsel. Under the legislation, a special counsel could only be removed for "misconduct, dereliction of duty, incapacity, conflict of interest, or other good cause, like a violation of departmental policies." The Department of Justice would also be required to inform the special counsel in writing as to why they were being removed.
If Trump did fire Mueller, the legislation would allow the special counsel to challenge the dismissal in court. If the panel of three federal judges decides the termination had no good cause, the special counsel would be reinstated.
"It is critical that special counsels have the independence and resources they need to lead investigations," Tillis said in a statement. "A back-end judicial review process to prevent unmerited removals of special counsels not only helps to ensure their investigatory independence, but also reaffirms our nation's system of check and balances."
Similar legislation was also introduced by Senators Lindsey Graham (R-South Carolina) and Cory Booker (D-New Jersey) Thursday. The Special Counsel Independence Protection Act would ensure that the special counsel could only be dismissed by the Attorney General after a federal court established there was "misconduct, dereliction of duty, incapacity, conflict of interest, or other good cause for removal."
"Our bill allows judicial review of any decision to terminate a special counsel to make sure it's done for the reasons cited in the regulation rather than political motivation. I think this will serve the country well," Graham said in a statement.
After the report that Mueller impaneled a new grand jury, both US stocks and the dollar dropped Thursday.
Mueller's team also expanded Tuesday, with former Justice Department official Greg Andres becoming the 16th lawyer to join the team.