Prankster posing as Priebus says he fooled Scaramucci into bitter email spat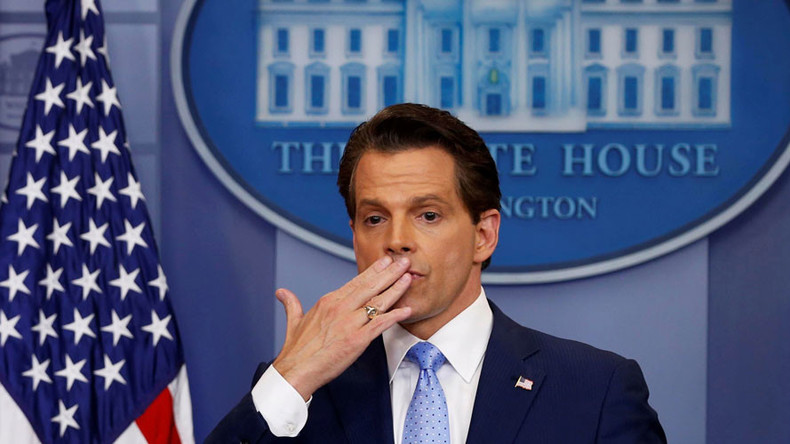 An email prankster posing as Reince Priebus claims to have tricked former White House communications chief Anthony Scaramucci into a bitter email spat, shedding light on the political feuds in the West Wing.
The prank allegedly happened shortly before the colorful financier and Goldman Sachs executive, Anthony Scaramucci, resigned as the White House head of communications after just over a week in the position.
The prankster, who goes by Twitter alias 'Sinon Reborn,' posted screenshots of what he said was a real email exchange with Scaramucci.
Posing as Reince Priebus, former White House chief of staff fired by President Donald Trump last week, Sinon Reborn bashed Scaramucci for hypocrisy and lack of class.
"I had promised myself I would leave my hands mud free, but after reading your tweet today which stated how 'soon we will learn who in the media has class, and who hasn't', has pushed me to this," he says in screen grabs posted on Twitter.
"That tweet was breathtakingly hypocritical, even for you. At no stage have you acted in a way that's even remotely classy yet you believe that's the standard by which everyone should behave towards you?"
Speaking of ex-Marine General John Kelly, who succeeded Priebus, the prankster said the new chief of staff "will do a fine job… I'll even admit he will do a better job than me."
"You know what you did. We all do. Even today. But rest assured we were prepared. A Man would apologize," Scaramucci allegedly fired back. While Scaramucci's email in this exchange is not disclosed, the Priebus alias posted from an unofficial account at the mail.com domain.
READ MORE: 'Farewell, sweet prince': Twitter in meltdown as 'Mooch' is shown the WH door
A bitter exchange unfolded with the fake Priebus responding: "I can't believe you are questioning my ethics! The so called 'Mooch', who can't even manage his first week in the White House without leaving upset in his wake. I have nothing to apologize for."
Scaramucci allegedly replied: "Read Shakespeare. Particularly Othello. You are right there. My family is fine by the way and will thrive. I know what you did. No more replies from me."
Giving Scaramucci "something to think about," the prankster told him to "keep spell checking your press releases," prompting no response.
Scaramucci left the White House on Monday after his strong-language rants appeared in a New Yorker story last Thursday. Speaking to journalist Ryan Lizza, Scaramucci described Priebus as a "paranoid schizophrenic," adding the former chief of staff was "c*ck-blocking" him.
Sharing an impression of Trump's long-time adviser Steve Bannon, the combative Scaramucci told the daily: "I'm not Steve Bannon, I'm not trying to suck my own c*ck. I'm not trying to build my own brand off the f**king strength of the president. I'm here to serve the country."
Priebus' name was not the only guise for the email trickster to fool Scaramucci into sharing some insights into White House power feuds. Posing as designated Russian ambassador Jon Huntsman Jr. on Friday, the prankster asked Scaramucci about the fate of Priebus and Bannon: "Who's [sic] head should roll first?" Scaramucci replied: "Both of them."
READ MORE: 'F**king paranoid schizophrenic': Scaramucci blasts Priebus & Bannon in rant
Huntsman himself also appears to have been targeted by the prankster, who posed as Trump's son, Eric, wishing him all the best.
"Thanks for the thoughtful note," the ambassador-designate allegedly wrote to fake Eric Trump, as seen in another Twitter post by the prankster. "Russia will be a challenging but no doubt rewarding assignment."
The bogus Trump Jr. suggested in response: "Maybe we could have Dad sat [sic] on a horse, top off, giving the full Putin! He's in better shape than his suits suggest."
The White House said it is inquiring into the email exchange, raising the issue with the US security agencies. "We take all cyber related issues very seriously and are looking into these incidents further," newly-appointed press secretary Sarah Huckabee Sanders told CNN on Monday.