War on crime: AG Sessions calls for return to forfeitures, 'broken windows' policing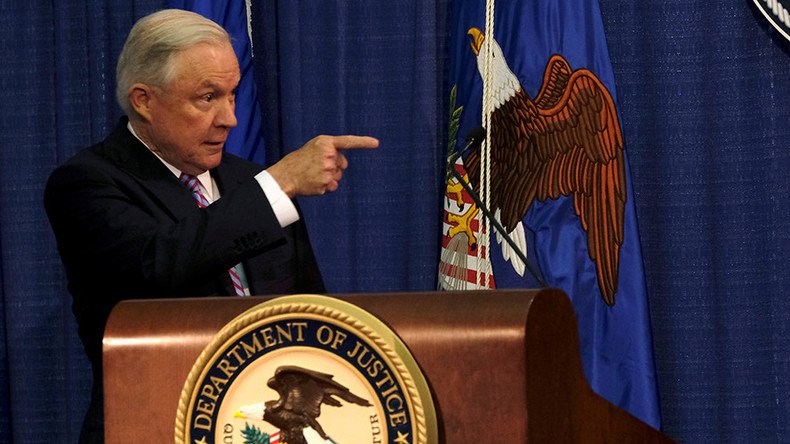 Citing a spike in violent crime, Attorney General Jeff Sessions called for more proactive policing and a crackdown on gangs, guns, drugs and illegal immigration. He also endorsed the practice of asset forfeiture, slammed by critics as policing for profit.
Sessions outlined the Trump administration's crime-fighting strategy in a speech to the National District Attorneys Association Monday. The event, held in Minneapolis, Minnesota, largely flew under the media radar until the attorney general's prepared remarks were published.
"We have a multi-front battle in front of us right now: an increase in violent crime, a rise in vicious gangs, an opioid epidemic, threats from terrorism, and human traffickers, combined with a culture in which family and discipline seems to be eroding further," Sessions said.
To fight that, the Department of Justice will encourage "community-based, proactive policing and 'broken windows' ‒ policies that are lawful and proven to work," he added.
"Our goal is not to reduce illegal immigration but to end illegal immigration," the attorney general said, noting that the government's efforts to ramp up border security and prosecutions of unlawful entry – dubbed Operation Streamline – are "already turning the tide."
Under new DOJ charging and sentencing guidelines, US attorneys will be expected to charge "the most serious readily provable offense," Sessions said, adding that he wanted to see a "substantial increase in gun crime prosecutions" in order to reduce violent crime.
As part of the government's crackdown on opioid abuse, any plea bargains should require individuals charged for illegal possession of prescription drugs to disclose their supplier, the attorney general said.
The remark that attracted the most controversy, however, was about the DOJ plan to boost the controversial practice of asset forfeiture, whereby the government confiscates property of suspects without a trial or conviction.
"With care and professionalism, we plan to develop policies to increase forfeitures. No criminal should be allowed to keep the proceeds of their crime. Adoptive forfeitures are appropriate as is sharing with our partners," Sessions said.
Under the so-called "equitable sharing program," the federal government would let state and local police keep a portion of the property they take, and many police departments have become dependent on the program as a source of income.
In 2014, federal authorities seized over $5 billion in assets, "more than the amount of money lost in every single burglary that year," according to the Washington Post. Concerns that the program was getting out of hand led the Obama administration to suspend it in December 2015, only to reinstate it in March 2016.
While the DOJ will "aggressively prosecute" any officers who violate the civil rights of American citizens, it will never "demean or offer unwarranted criticism" of law enforcement, Sessions told the district attorneys.
"Each of you is a bright light of hope and justice. Your light shines in the darkness, and the darkness will not overcome it," he said.
You can share this story on social media: