Fracking waste contaminates Penn. watershed with radioactive material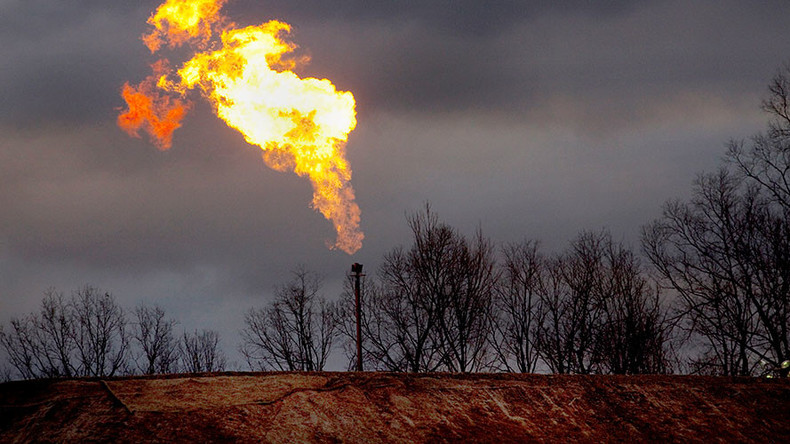 Stream sediments in Pennsylvania downstream from two fracking wastewater treatment facilities were found to contain radioactive material and carcinogens, according to study scientists from Penn State, Colorado State and Dartmouth universities.
The study's findings, published Thursday, came after Penn State's Bill Burgos and his fellow scientists sought to discover what had been the effect of the strategy of treating and releasing fracking wastewater, according to the Independent.
They sampled sediments and groundwater from the Conemaugh River water, downstream from two facilities that were created to make the water used in the fracking process fit for release into the environment.
"Isotopic ratios of 226Ra/228Ra and 87Sr/86Sr identified that peak concentrations of Ra and Sr were likely sourced from wastewaters that originated from the Marcellus Shale formation," according to the study Watershed-Scale Impacts for Surface Water Disposal of Oil and Gas Wastewater in Western Pennsylvania.
Their analysis detected peak concentrations of radium, chloride, barium, strontium, radium and organic compounds in Conemaugh River watershed. The two major classes of organic contaminants included nonylphenol ethoxylates, endocrine-disrupting chemicals, and polycyclic aromatic hydrocarbons, known carcinogens.
When scientists examined steam sediments in Blacklick Creek, just downstream from one treatment plant, it was found to contain about 200 times the level of radium found upstream of the plant.
The highest concentration of radium was just 14 percent below the level at which it would have to be treated as radioactive waste in some US states.
"Despite several other sources of contaminants such as coal bed methane, coal mine drainage, and flue gas desulfurization releases that can impact surface water quality, we document multiple lines of evidence that indicate the legacy of unconventional oil-and-gas wastewater disposal has impacted stream sediments and porewater (groundwater) on a watershed scale," wrote Burgos in the study, published in ACS's journal Environmental Science & Technology.
The highest toxic concentrations coincided with sediment layers deposited five to 10 years ago during a peak period of fracking wastewater disposal, Burgos said. Elevated levels of radium were also found as far as 12 miles downstream of the treatment plants.
The US is experiencing an oil and gas boom from exploiting its natural resources through fracking, but in doing so is creating billions of gallons of wastewater that are hard to contain and hard to treat.
Fracking involves forcing under high pressure water and other substances, which can include radioactive ones, into cracks in porous rocks that contain fossil fuels.
The report estimates that in 2015 there were 10,000 unconventional oil and gas wells in the Marcellus Shale, which produced 1.7 billion gallons of wastewater. The facilities that collect the water provide only limited treatment before releasing it into surface waters, according to Science Daily.
The Marcellus Shale is a geology seam which stretches from Southern New York to Virginia and is claimed by the fossil fuel industry to have rich deposits of natural gas and oil.
Burgos said risks posed by the pollutants in the sediment and groundwater "are difficult to assess," and the watershed is not used as a public source of drinking water.
The potential risks associated with this contamination are unknown, the researchers said, but they recommended tighter regulations of wastewater disposal could help the environmental and human health.
Elsewhere in Pennsylvania, 12 families in West Whiteland and Uwchlan townships reported contaminated well water in Chester County, causing Sunoco Pipeline LP to temporarily halt construction of the its Mariner East 2 pipeline last Friday.
The Mariner East 2 pipeline will carry natural gas from Ohio and the Marcellus Shale fields to a terminal in Marcus Hook, Delaware County.
Although most of the 350-mile pipeline is being built in a trench near the surface, Sunoco is using horizontal drilling methods to install the pipeline through densely populated areas of Chester and Delaware counties.
Five families with contaminated water were moved to local hotels after alerting the company and the US Environmental Protection Agency (EPA) about the water problem. Other families were given filtration supplies and bottled water.
Sunoco tested the private wells to determine if its horizontal drilling caused the murky water by introducing bentonite clay into water supplies. Results of those tests have not been made available so far.
"Our concern is to make sure that our residents have a permanent solution to this so it doesn't recur," said George Turner, a township supervisor, the Philadelphia Inquirer reported.
Officials in West Whiteland are asking Sunoco to cover the costs of connecting a dozen homes to the public water system so that they are no longer affected by the company's drilling. Some residents don't favor the plan.
"If I have to hook up to city water, they should have to pay my water bills for the rest of my life," Benjamin Eckert, a homeowner, told the Philadelphia Inquirer. "We had a perfectly good well."
You can share this story on social media: