New 'body of evidence' unveils fracking threats to public health & safety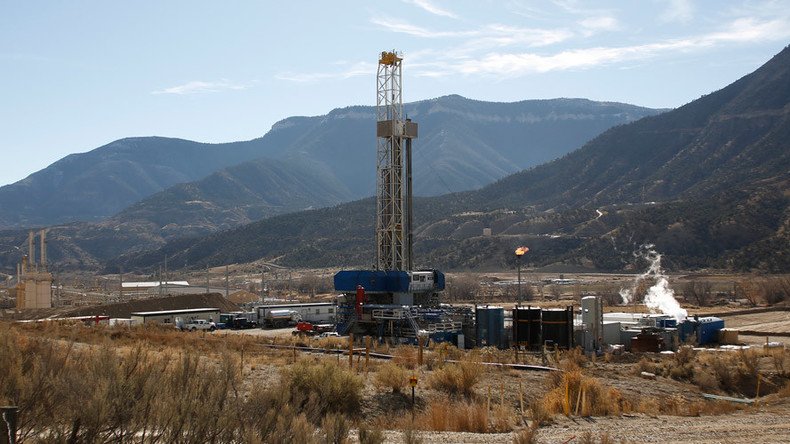 The negative impact of fracking on health and climate is inevitable, according to a newly released comprehensive report, which is based on "expanding body of evidence" of risks and harms related to oil and gas extraction.
"There is no evidence that fracking can operate without threatening public health directly or without imperiling climate stability upon which public health depends," a Nobel Peace Prize-winning group of physicians have concluded in their fourth and most comprehensive report.
However, the paper, issued in mid-November, has largely remained unnoticed by both the media and the government.
Hydraulic fracturing, or fracking for short, is an oil and natural gas drilling technique that uses powerful underground injections of sand and water to break up shale formations to release fossil fuels. The method is largely responsible for a boom in US oil and gas production that made the US a global leader in energy production, but many argue that it also contributes to drinking water contamination and even causes earthquakes. In 2015, the Environmental Protection Agency issued a six-year, multimillion dollar, national study, determining that fracking had no widespread and systemic impacts.
This year, Physicians for Social Responsibility and Concerned Health Professionals of New York, have collected and complied even more articles from medical or scientific journals, media investigative reports as well as findings by government agencies that prove that fracking does pose threat to both people and nature.
They say there has been "a moving stream of data" related to fracking and the number of reports exposing its risks has surged in the past years, which proves "how young our knowledge base still is." In the first nine months of 2016 alone, more than 900 available studies were published.
The 209-pages compilation is focused on topics of water and air pollution, radioactive releases earthquakes risks and threats to climate change, to name a few.
Thus, one study by University of Colorado from July 2016, found methane in 42 water wells in the Denver-Julesburg Basin where "high volume, horizontal fracking operations began in 2010."
Another team of researchers from the US Agency for Toxic Substances and Disease Registry (ATSDR) also conducted a public health evaluation and issued their results in May 2016. They used groundwater data gathered in 2012 by the EPA from 64 private drinking water wells in Pennsylvania where natural gas drilling and fracking activities began in 2008, and found that in nearly in half of those wells water contained contaminants "at levels high enough to affect human health."
Regarding earthquake risks, the group says there are now "several major studies" that confirm a "causal link between the injection of fracking wastewater in disposal wells and earthquake swarms."
This November, residents of the small Oklahoma town of Pawnee sued 27 fracking companies, demanding to pay for the effects of a 5.8-magnitude earthquake in September 2016.
READ MORE: Oklahoma sees dozens of fracking water wells shut down after major earthquake
The class-action suit demanded the companies cover property damage, reduced property values and emotional distress.
Just days before the compilation was released, a magnitude 5.0 earthquake struck Cushing, Oklahoma near the site of the nation's largest oil hub, where 60 million barrels of crude oil are stored.
"Recent evidence shows that the process of fracking itself can trigger small earthquakes, as several confirmed cases demonstrate," the group concluded.
READ MORE: 'Significant damage' in key US oil hub Cushing after 5.0 quake shakes central Oklahoma
Yet, they say, California among all US states faces "unique" risks posed by fracking.
"About 1.7 million people in Los Angeles live or work within one mile of an active oil or gas well. California does not currently limit how close drilling and fracking operations can be from residences or schools," the compendium said.
Moreover, the state also allows "fracking waste to be held in unlined, open pits, which creates risks for both air and groundwater contamination."
These are just few of the cases Physicians for Social Responsibility and Concerned Health Professionals of New York have collected in their paper, which they hope they will be updating every year.
On the same day, as they published their most recent compilation, the American Petroleum Institute has also issued a report, widely supporting the EPA's findings.
"This report shows that EPA's conclusion has scientific backing and reflects the effectiveness of existing industry practices and state regulations," said API Director of Upstream and Industry Operations Erik Milito, praising the process as "the backbone for a continued economic, environmental and energy development success story in the US."
However, since the release of the first edition of the compendium in July 2014, several anti-fracking actions have been taken on a legislative level. Thus, in December 2014, the New York State Department of Health released its own years-long review of the health impacts of fracking, which led to a statewide ban, enacted in 2015. Then, Maryland followed the suit and passed a two-and-a-half year moratorium on fracking, which runs out in 2017.
READ MORE: Fracking ban backed by majority in Maryland may be lifted next year
Vermont was the first US state that banned fracking in 2012.
You can share this story on social media: