'Dreamers' may lose DACA deportation relief, Homeland chief warns Democrats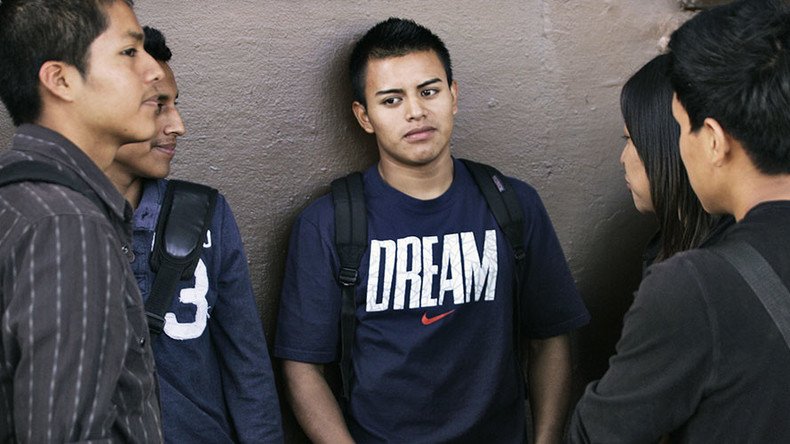 Homeland Security Secretary John Kelly is advising Congressional Hispanic Caucus Democrats to work on immigration reform, as deportation protection for undocumented immigrants who illegally entered the US as minors may not survive a court challenge.
Kelly's spokesman, David Lapan, told CNN and Politico on Wednesday that Kelly has been informed by legal experts within and outside of the White House that DACA, or the Deferred Action for Childhood Arrivals, will likely be struck down as unconstitutional in a US court.
Kelly shared that information with Democrats in the Congressional Hispanic Caucus and also told them that he personally supports the program.
However, he wouldn't say the same about the rest of the Trump administration, most notably Attorney General Jeff Sessions, an immigration hardliner who would shock many if he directed the Department of Justice to defend DACA in court.
The DACA program was instituted in June 2012 by President Barack Obama, who said the executive action was necessary as Congress had failed to pass comprehensive immigration reform.
Critics called the move an abuse of power, and President Donald Trump promised to terminate the program during his 2016 campaign.
Mixed signals have come out of the Trump administration on the matter ever since. Immigrant advocacy groups applauded Trump just fives days after he took office, when he told ABC News that so-called "dreamers," people who came to the US illegally before reaching the age of 16, "shouldn't be very worried."
"I do have a big heart. We're going to take care of everybody," Trump said on January 25. "But I will tell you, we're looking at this, the whole immigration situation, we're looking at it with great heart."
Earlier that same day, Vox published a leaked draft of an executive order that would discontinue DACA applications and renewals. That didn't dissuade immigration restrictionists who had supported Trump and took him at his word that DACA would be eliminated on his first day in office.
In April, as news came out that the Trump administration was approving new DACA applications, Mark Krikorian, director of the Center for Immigration Studies, accused Trump of flip-flopping in an interview with Breitbart News Daily. Around the same time, Trump was telling the Associated Press that those with DACA protection could "rest easy" as his deportation policy would go "not after the dreamers," but instead "the criminals."
DACA could be challenged in court as soon as September, when a pending lawsuit will be heard against the related Obama-era program DAPA, which never went into effect but is meant to cover parents of children who illegally entered the US. Ten state attorneys general are challenging DAPA and could easily add DACA to their complaints.
Rep. Nanette Barragan, one of the Democrats who met with Kelly on Wednesday, told CNN that there was "there was a combination of laughter and appalled shock in the room" when Kelly said he was unaware of ongoing efforts to make DACA permanent, such as the bipartisan BRIDGE Act, after telling the group that they should work on a legislative fix.
Kelly appeared next to Republican leadership after the House passed two immigration enforcement bills at the end of last month, but when asked to do the same for Democrats to encourage support for their bills, he did not commit but only indicated he would consider it, CNN reported.
"His urging is that Congress do something," Rep. Ruben Gallego (D-Arizona) told CNN. "Our urging is: Don't be a fool. If you truly believe and Donald Trump believes that you should protect DACA, then the government should join and encourage the protection of DACA and fight against his attorney general."
Pew Research Center has estimated more than 750,000 undocumented immigrants "have received work permits and deportation relief."
You can share this story on social media: