House passes 'Kate's Law' and 'No Sanctuary for Criminals Act' targeting illegal immigration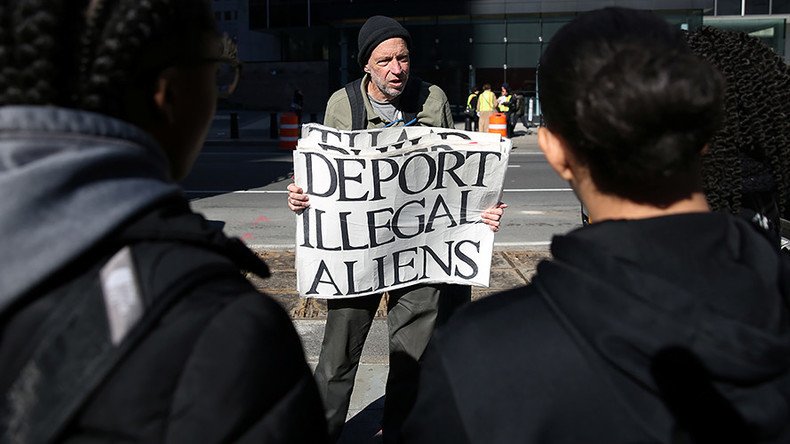 Two immigration bills have passed the House, mostly along party lines. Two dozen Democrats voted with the GOP on "Kate's Law" to impose tougher sentences on illegal re-entry into the US, while another vote on "sanctuary cities" was even more partisan.
On Thursday, the House passed HR 3004, known as "Kate's Law," which would impose mandatory minimum sentences on previously removed illegal immigrants who return to the United States.
The bill passed with a 257-167 vote. One Republican voted against the bill, and 24 Democrats voted for it.
Additionally, the House passed HR 3003, known as the "No Sanctuary for Criminals Act," which would withhold federal grant money from "sanctuary" jurisdictions that refuse to comply with federal immigration enforcement requests
The bill passed with a 228-195 vote. Three Democrats voted for the bill, and seven Republicans voted against it.
President Donald Trump applauded the House for passing bills he said were "vital to our public safety and national security," according to a statement released by the White House.
Trump also urged the Senate to pass the bills and send them to his desk.
Kate's Law
Kate's Law is named after Kate Steinle, a San Francisco woman killed by an illegal immigrant two years ago. The man charged in her murder, Juan Francisco Lopez-Sanchez, was a seven-time felon who had been deported to Mexico five times.
US Attorney General Jeff Sessions said Lopez-Sanchez would have been in the custody of Immigration and Customs Enforcement (ICE) if the city of San Francisco had notified them about his release from the city's custody.
"But San Francisco refused to do so. The city continues to refuse to cooperate with federal immigration authorities. In fact, it's city policy," Sessions said, according to a statement from the White House. "We must send a clear message that re-entering after having been previously deported will cease to be a minor matter, but will result in prison and deportation."
Department of Homeland Security Secretary John Kelly said sanctuary cities are "anything but safe," on Thursday during a weekly press conference organized by House Speaker Paul Ryan (R-Wisconsin).
"It is beyond my comprehension why federal, state, and local officials sworn to enforce the laws of the nation as I am would actively discourage or outright prevent law enforcement agencies from upholding the laws of the United States," Kelly said.
No Sanctuary for Criminals Act
The No Sanctuary for Criminals Act would require all jurisdictions to comply with ICE requests to detain illegal immigrants until federal immigration enforcement officials can take the individual into their custody.
Any jurisdictions that do not comply with requests would be blocked from receiving certain federal grants from the Department of Justice and the Department of Homeland Security.
Sessions said the bill would mean "American taxpayers will no longer be forced to subsidize jurisdictions whose policies effectively work to make us less safe."
House Judiciary Committee Chair Bob Goodlatte (R-Virginia), who introduced both bills, wrote an op-ed in The Hill on Thursday, saying that the two bills are "needed desperately."
"For years, the lack of immigration enforcement and the spread of dangerous sanctuary policies have failed the American people and cost too many lives," Goodlatte wrote.
During a speech at the Energy Department on Thursday, Trump said that if the bills were sent to his desk, he would "give them the fastest approval, the fastest signature, that you have ever seen."
On Wednesday, Trump met with more than a dozen families of Americans who were victimized by illegal immigrants, including Steve Ronnebeck, the father of Grant Ronnebeck, who was shot and killed by a convicted felon who was in the country illegally in 2015. The man charged in the killing, Apolinar Altamirano, had been released on bail while facing deportation.
One of the provisions in the No Sanctuary for Criminals Act was named in honor of Grant and Sarah Root, another victim who was killed by an illegal immigrant driving under the influence.
Sarah and Grant's law would ensure that illegal immigrants who have been charged with a serious crime remain in detention during their deportation proceedings.
During the meeting with Trump, Ronnebeck called these kinds of crimes committed by illegal immigrants "preventable."
"They are all preventable. We want to stop them none of us want any other family to go through the devastation that our families have gone through," Ronnebeck said, according to ABC News.
You can share this story on social media: