Judge halts deportation of 1,400 Iraqis over Justice Dept objections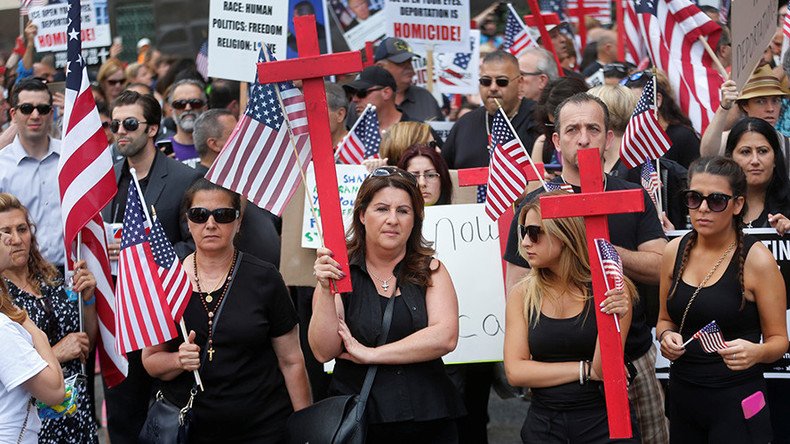 A federal judge in Detroit, Michigan has stopped the deportation of 1,400 Iraqi nationals, many of them Christians, asserting jurisdiction in the case despite objections from the US Justice Department.
"This Court concludes that to enforce the Congressional mandate that district courts lacks jurisdiction – despite the compelling context of this case – would expose Petitioners to the substantiated risk of death, torture, or other grave persecutions before their legal claims can be tested in a court," wrote US District Judge Mark Goldsmith in a 24-page opinion on Tuesday, according to Al Jazeera.
Many of the Iraqis, including 114 rounded up in raids in the Detroit area last month, are Christians who fear attacks because of their religion if they return to Iraq. The government says they face deportation because they committed crimes in the US.
judge halts deportation of "1,400 Iraqis—many of them Christian—under the grounds they could be tortured or killed" https://t.co/b1O375jd8t

— Mike Giglio (@mike_giglio) July 12, 2017
Goldsmith has already blocked the deportations for two weeks while he considered whether he had jurisdiction. The Justice Department insists a US District Court judge doesn't have jurisdiction in the immigration matter.
Some of those arrested came to the US as children and committed their crimes decades ago, but they had been allowed to stay because Iraq previously declined to issue them travel documents.
One of the questions is how deportation would work to a country that is embroiled in war, where cities and towns are occupied by Islamic State (IS, formerly ISIS/ISIL).
"The biggest concern here is the vast majority of the Chaldeans, Syrians and Christians come from what is known as ISIS territory. The city of Mosul, which is the largest Christian village in Iraq, was the first raided by ISIS. Their Christian brethren have left these areas," attorney Clarence Dass told RT. "For them to return for sure will be to face discrimination, torture, if not the death penalty when they get there."
A lot of these people wear their Christian faith on their bodies in the form of tattoos, with scriptures on their wrists, or crosses on their forearms, he said.

"They are a very religious people," Dass added.
Dass had two clients who contacted him when the Trump administration first announced its immigration policy. His client base ballooned to 23 since the raids.
Legal action over deportations took on new urgency in March after Iraq agreed to start accepting US deportees as part of a deal that removed the country from President Donald Trump's revised temporary travel ban on several predominantly Muslim countries.
In June, the American Civil Liberties Union filed a class-action lawsuit to stop the deportations.
The ACLU said a suspension is necessary so Iraqi nationals can go to immigration court and argue that their lives would be in jeopardy if returned to their native country.
Without some intervention, the ACLU contends people could be deported before their cases are called.
Goldsmith scheduled a Wednesday hearing to discuss several matters in the case, including a request from the Iraqis for a preliminary injunction barring the deportations, according to WWJ.
You can share this story on social media: