Detroit judge blocks deportation of Iraqi Christians
Published time: 23 Jun, 2017 18:29
Edited time: 25 Jun, 2017 08:15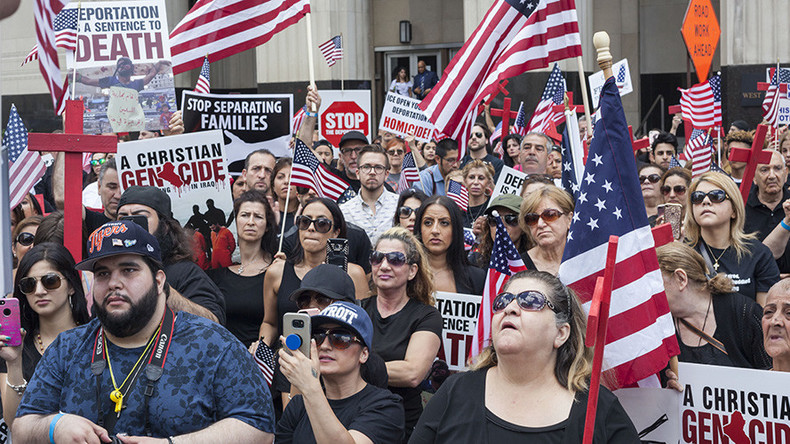 A federal court judge has temporarily halted the deportation of more than 100 Iraqi Christians living in the Detroit area who were detained in raids by federal agents. Many of them fear torture and possible death if sent back to Iraq.
US District Judge Mark Goldsmith said in a written order on Thursday that deportation is halted for two weeks as he determines whether the court has jurisdiction.
Judge Goldsmith agreed the Iraqis, many of them Christian, could face persecution in Iraq, and so they should be allowed to stay until the court can make a further ruling.
Attorneys for 114 Iraqi immigrants and the American Civil Liberties Union (ACLU) of Michigan cheered the judge's decision, according to the Detroit News.
In a statement, Immigration and Customs Enforcement (ICE) said it will comply with the order.
One of the attorney's Clarence Dass told RT lawyers have 14 days to file individual motions for all of their clients and get hearings in the interim.
The vast majority of the people rounded up in raids, Dass explained, left Iraq 20 or 30 years ago and lack fundamental documentation that would make them legitimate residents of Iraq, such as birth certificates and passports.
The ACLU of Michigan had filed a class-action lawsuit on June 15 to halt federal immigration officials from deporting more than 100 Iraqi nationals rounded up by federal agents. The ACLU argued it's illegal to deport the detainees without giving them an opportunity to prove they could face torture or death if returned to Iraq.
The ACLU also filed a motion asking the court for a restraining order of the people held in custody until it's determined whether they are entitled to protection.
Judge Goldsmith heard arguments on Wednesday. Goldsmith did not make a final determination on the lawsuit, which was filed against Immigration and Customs Enforcement.
Goldsmith said that "the court is unsure whether it has subject-matter jurisdiction," according to Detroit News.
Dass told RT the court fight is likely to be the first to resolve the issue of jurisdiction as there doesn't appear be legal precedent.
More than 114 Iraqis, many Chaldean Christians, were arrested by federal immigration officials in raids on June 11 in the Detroit metropolitan area.
The arrests sparked protests in Metro Detroit by supporters who say the Iraqis would face persecution in their homeland since many of them are Christians. Almost 200 Iraqi nationals with criminal records have been arrested recently nationwide by federal immigration agents.
ICE has defended the arrests, saying the Iraqis arrested all had criminal backgrounds and final orders of deportation from an immigration judge.
One of the questions is how deportation will work to a country that is embroiled in war, where towns like Mosul are occupied by Islamic State (IS, formerly ISIS/ISIL).
"The biggest concern here is the vast majority of the Chaldeans, Syrians and Christians come from what is known as ISIS territory. The city of Mosul, which is the largest Christian village in Iraq, was the first raided by ISIS. Their Christian brethren have left these areas," Dass told RT. "For them to return for sure will be to face discrimination, torture, if not the death penalty when they get there."
Dass said a lot of these people wear their Christian faith on their bodies in the form of tattoos, with scriptures on their wrists, or crosses on their forearms.

"They are a very religious people."
Dass said he had two clients that contacted him when the Trump administration first announced its immigration policy. That client base has ballooned to 23 since the raids.
Dass said he was surprised the Chaldeans were targeted as a week before Congress had passed a resolution recognizing there was a genocide underway against Chaldeans, the Syrian Christians, and Christians in Iraq.
"Just one week prior our federal government declared religious discrimination against this group," Dass remarked. "A week later they round up the same group and are attempting to send them back to the same place where genocide is occurring, so it was very ironic."
Chaldeans are an Iraqi indigenous community and speak Aramaic. The Chaldean Catholic Church is an Eastern Catholic Church and uses the East Syrian rite.
The Chaldean Catholic community in Detroit dates back to the early 20th century. There are about 150,000 Chaldeans in the Detroit area, which is the largest Chaldean diaspora community living outside the Middle East, according to the Chaldean Community Foundation.