Protesters block US deportation buses carrying Iraqi Christians (VIDEOS)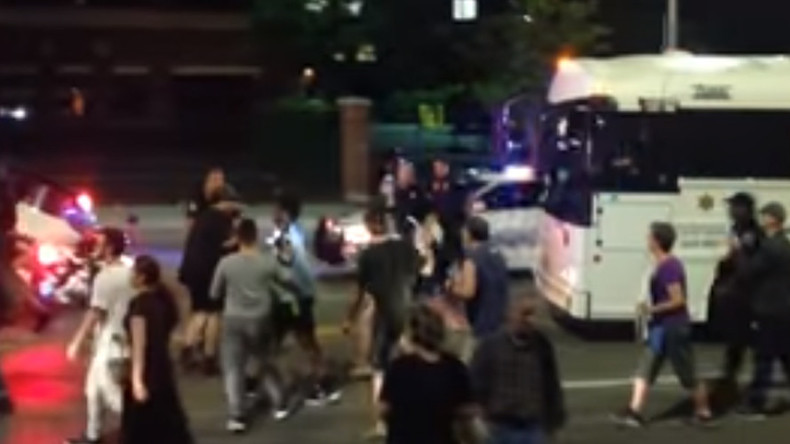 As many as 80 Iraqi Christians and other immigrants were rounded up for a mass deportation in Detroit on Sunday, triggering a large protest that attempted to stop buses carrying the Iraqis fearful of their safety if deported.
Chaldean Christian Iraqis were arrested by Immigration and Customs Enforcement (ICE) on Sunday in Sterling Heights, West Bloomfield and Dearborn.

CBS Detroit reports almost 40 people were arrested for crimes committed years ago. Their families fear they will be persecuted for their religion should they be deported back to Iraq.

"There was a very wide ICE sweep of Iraqi Chaldeans and Christians living in the Metro area – and it started very early this morning about 7 am," immigration attorney Eman Jajonie-Daman said.

"They took them all to the ICE office in downtown Detroit and put them on buses to get them ready to go to Youngstown, Ohio to the Northeast Correctional Facility there for final deportation back to Iraq," she said.
Family members and protesters gathered outside the federal building where ICE's Detroit Field Office is located. Demonstrators attempted to block buses of Iraqis from entering and leaving the ICE compound.
Video footage taken by one of the protesters shows a group of about 20 holding signs outside the ICE grounds. "No more racist deportations, free our people now!" the group chanted.
"There were mass raids done today all around the city at the early am at people's homes," the video's poster, Markeith Jones, said.
"Anywhere from 50-80 people were picked up and brought here to the Mt Elliot and Jefferson detention center. They are trying to move another busload of people and we want to block the bus from coming out!"
A second video streamed on Facebook by the same uploader two hours after the first video shows protesters blocking a bus stopped outside the side entrance gates of the ICE center.
The uploader's third video shows protesters blocking a bus that is leaving by the main entrance, with a black SUV in front with flashing lights.
RT has requested comment from the ICE.
A demonstration against the deportations has been announced for Monday at 1:00pm EDT outside the Chaldean Catholic Church.
Sunday's raid was the latest ICE roundup after hundreds were taken in California, Texas, and Tennessee.
US President Donald Trump signed an executive order in January to increase deportations of undocumented workers with criminal records. MLive reports members of the Chaldean community voted for Trump after being told to do so by church leaders.
"This is a deliberate attack on the Chaldean Catholic Assyrian community of Detroit by the Administration. They waited until Sunday when our community would be going to church and gathering with their families and have rounded up to 40-60 community members," local lawyer Wisam Naoum said.

"People are being detained in Michigan and sent as far as Ohio to sit in prisons while they await their fates. We are hearing that in some cases final orders have been issued to send people back to Mosul, which is still an active war zone," he added.
You can share this story on social media: