Missouri reverses minimum wage from $10 an hour to $7.50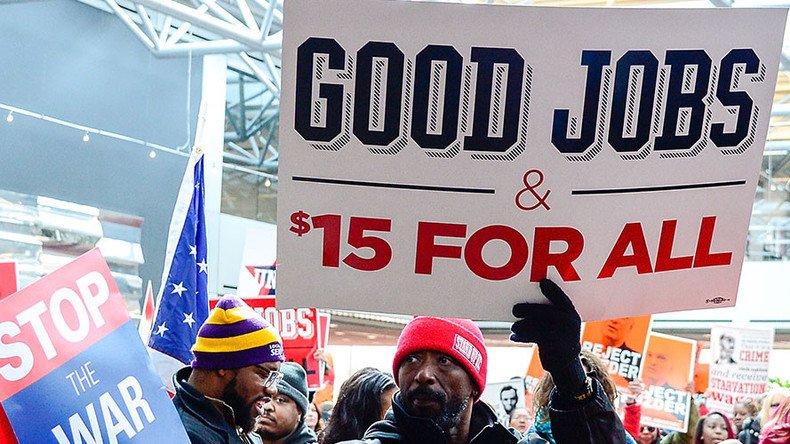 Bucking the trend of other states to raise minimum wages to $15 an hour, Missouri's Republican Governor allowed a bill to pass into law that blocks cities and municipalities from setting their own minimum wage to keep it at the statewide standard of $7.50 an hour.
The bill will affect those minimum wage workers in St. Louis who are currently making $10 an hour after winning a two-year legal fight against business groups who challenged a 2015 city ordinance authorizing an increase.
Under that city law, the wage was set to rise again in January to $11 an hour, then increase annually with inflation.
"It will kill jobs," Missouri Governor Eric Greitens said of the increase, according to the St. Louis Dispatch. "And despite what you hear from liberals, it will take money out of people's pockets."
It's unclear whether many businesses as of August 28 will seek to reduce pay to employees who have recently received increases.
Democrats in the state have pushed for a minimum wage increase but there was no interest by the GOP-led legislature. The next step could be putting a statewide minimum wage increase on the ballot through a citizen referendum.
In March, Iowa's Republican governor Terry Brandstad, roll backed minimum wage increases which were proposed by five counties to keep them from climbing to $8.20 from $7.25.
READ MORE: Iowa governor blocks minimum wage hike in several counties.
After the so-called 'Fight For 15' nationwide protests, cities all over the country have been boosting their minimum wage levels. Minimum wages went up on July 1 or will go up soon from Chicago to Arizona and Los Angeles to Washington, DC. In Seattle it is up to $15 an hour.
There's been competing studies on the results of increasing minimum wage. In June, AP reported a study from the University of California at Berkeley which showed that Seattle's $15-an-hour minimum wage law boosted pay for restaurant workers without costing jobs.
A study by a group of economists at the University of Washington, commissioned by the city of Seattle, found that the costs to low-wage workers outweighed the benefits by a ratio of three to one, according to the Washington Post.
The study estimates the average low-wage worker in the city lost $125 a month because of the hike in the minimum.
Wanda Roberts, a minimum wage worker in St. Louis, said the new $10 wage brought in an extra $400 a month and helped the local economy.
"If we're making $10 an hour, we're going to go right back out and spend that money," Roberts said, according to WMSN.
She added with the reversal she would "go back to struggling."
In St. Louis, the minimum wage was going to increase to $11 an hour in January affecting 38,000 workers.
You can share this story on social media: